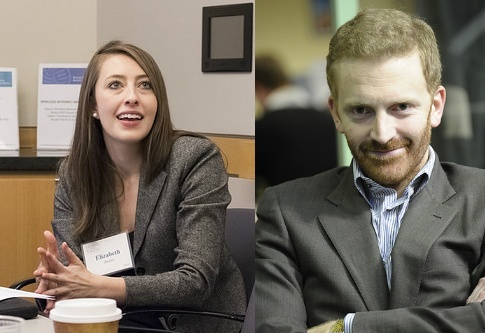 What's the difference between a professional coach and an entrepreneurial coach and why does it matter?
I recently received a couple of emails from someone on my mailing list who asked questions such as these. He took issue with a lead-nurturing (a type of marketing) email he received from us in which I frankly advise new coaches to get good coach training and reputable coach certification.
The writer identified himself as an entrepreneur, who offers coaching as one of his services, so I answered him in language I thought he would understand:
I said we were very clear who our ideal student is and he probably wouldn't resonate with our messages, since they are targeted at people who want to become professional coaches, rather than entrepreneurial coaches. I wasn't interested in arguing the relative merits of professionals vs. entrepreneurs, so I neglected to add that I have a strong bias toward professional coaches, for whom training and certification are a must, as opposed to entrepreneurial coaches who generally rely their reputations, experience, and instincts, to coach. That, by the way, is why I started a coach training school that certifies coaches.
A coach used to be considered half professional and half entrepreneur, 15-to-20 years ago, and the Founder of the Coaching Profession, Thomas Leonard, was a perfect example. He started multiple coaching schools and professional organizations, in his lifetime, but was a classic entrepreneur who embodied the creativity, drive, productivity, and ongoing dialogue with his customers, that entrepreneurs are known for. That said, his major contribution to coaching was the turn toward professionalism and he embodied a stellar reputation for integrity, ethics, quality, and service that went way beyond profits.
The two photos above show, on the left, a professional coach who displays an openness and willingness to serve clients. On the right, shows an entrepreneur who's burning with his vision for designing a successful business. Both may be useful to coach with depending on what you want to work on. Neither is automatically better, but the professional coach is more thoroughly defined and has qualities that can be more easily recognized and evaluated.
Since Thomas' death in 2003, a leadership vacuum opened up. Much of it was filled by entrepreneurs who were focused more on marketing and sales gimmicks that drive profitability, than on helping clients grow and reach their goals. There are still a few good entrepreneurial coaches, but unfortunately they are increasingly outnumbered by scam artists and well-meaning wannabe's who may give bad advice.
I've known quite a few people whose lives have been transformed for the better by working with professional coaches. I also have known a handful of people whose lives have been ruined by entrepreneurial coaches. That doesn't mean all professional coaches are great, or that all entrepreneurial coaches are bad. Sometimes the opposite is true. It just isn't that simple, but over the years, I've moved away from the "half-professional/half-entrepreneurial" approach to coaching in favor of primarily being a professional and I advise my students to do the same, because it appears increasingly that professional coaches tend to deliver better results for clients and professional coaching is also a better model for coaching success.
I've been clarifying the distinction between professional coaches and entrepreneurs with my Coach 100 students for over a decade and realized that it could be helpful to many of our blog readers too, so here goes.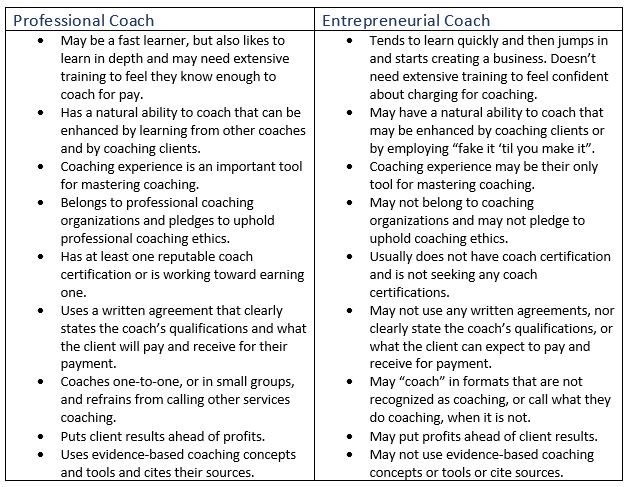 Whether you are a professional coach or entrepreneurial coach isn't really an either/or choice; it's both/and. Because coaching is still not regulated, so there is tremendous freedom for practitioners. But at the same time, it's the professional side of coaching that is driving much of coaching's positive reputation.
If you're looking for a coach, you may want to use the above table to determine how professional your potential coach is. You have a bit more knowledge and power, because professional organizations define what you can expect. Also, if your coach is a member of the International Coach Federation (ICF), you can file a complaint against a coach-member who fails to uphold the ICF's Code of Ethics.
Remember that lead-nurturing email from above, that advises good training and certification?
Recent research by the ICF found that coaches who get good training are more successful and less likely to quit the profession, while coaching clients say, all else being equal, they prefer to work with certified coaches. If you're new to coaching, my advice is that you get both coach training and certification to increase your confidence and success.