Coaching Groundwork Advanced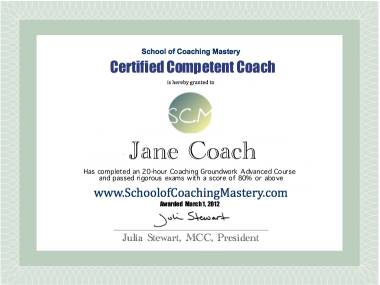 Get the most advanced and up-to-date approach to Professional Coaching Foundations and become a Certified Competent Coach.
Coaching Groundwork Advanced.
What is it? It's an 16-hour coaching course that bridges the gap between beginner and advanced coaching skills for the new coach who is on the path to success.

"Getting a chance to coach today (my first time ever!) was very helpful as I found myself with a little doubt. So the positive feedback from Julia and others was reassuring which will help my confidence grow... Thank you :-)"
- Coach Cheri Warner, SCM-CCC



The gap between beginner and advanced coaching skills can cost you time and money everyday because...
You may lose clients that you could help
That means you won't make the money you deserve
That means you can't run your business the way you want
That means you'll spend your time doing the wrong things
And that means you'll lose

more

clients you could help...
Soon you're stuck in a vicious cycle
Does any of this sound familiar? Then read on...

"This class has been very effective in simplifying the communication process between Connecting, Clarifying and Creating. In addition, the time spent coaching between class participants was exceptionally useful in internalizing being present and listening." - Coach Cheryl Gebhart, SCM-CCC
Coaching Groundwork Advanced bridges the gap between beginner and advanced coaching skills by addressing the issues that stop new coaches from succeeding:
How do I change a client's life in minutes?
How do I create the kind of results that attract high-paying clients?
How do I market without seeming pushy?
How do I know when someone wants to work with me?
What's the best way to close a sale?
How do I run my business with integrity?
How do I organize my time so I coach more and work less?
What do I do when I don't know how to coach someone?
How do I find my niche and specialty?
What do I do if a client doesn't pay me?
What are the ethical requirements of professional coaching?
[INSERT YOUR QUESTIONS HERE]
"The coaching practices and discussions are very helpful". -
Coach Carol Diaz, SCM-CCC
In live Coaching Groundwork Advanced tele-webinar classes, we answer all your questions as they come up. It's like having a mentor coach on call - but for a lot less money
For a limited time you can save a bundle on our low tuition!


Who is Advanced Coaching Groundwork for?


If you're a talented new coach who wants professional training, Advanced Coaching Groundwork is for you
If you're a coach who has 8 - 28 hours of coach training and is ready to advance, this is the next step for you
If you're a coach who prefers to learn in an interactive live webinar, with feedback and grades, but no time or money wasted on travel, this program is for you
If you're a coach who already has a Coaching Certificate and wants to upgrade to a real coach certification, this is your opportunity
If you're a coach who is thinking of pursuing Master Coach Training, this is the perfect prelude for you
If you're a coach who is savvy about investing in your success, this is a fantastic opportunity for you to learn and SAVE
If you're a coach who sees the value in advanced training, sign up now, because seating is limited
"Taking this class not only prepares us to be master coaches, but for me is sharpening my listening skills even more." - Coach Leah Chase, SCM-CCC
You're busy and money might be tight. So how can you afford to take this course?
Simple. You can't afford

not

to find the time and money, because it will create even

more

time and money for you.
How is Coaching Groundwork Advanced delivered?
You'll take eight 2-hour tele-webinars* led by SCM President, Julia Stewart, MMC
Each class is conversational, highly interactive, fast paced and fun
Each tele-webinar is accompanied by an in-depth written Coaching Guide (included at no extra charge) that provides you with details about successful coaching - both the skills and the business, or with exercises and feedback forms
You'll get numerous opportunities to practice what you learn, right on the spot, so you internalize it immediately and can then use it with your coaching clients
Tele-webinars are recorded, so you can view/listen again, as often as you want, 24/7
You'll take a short online test and get multiple chances to coach in class. Pass with an score of 80% and qualify to be a Certified Competent Coach!
Your SCM-CCC certificate and website badge will be emailed to you
Enjoy the prestige of being certified by School of Coaching Mastery
You'll have the option of being listed on the School of Coaching Mastery coach directory, along with other recipients of the Certified Competent Coach designation, with a link to your website, if you have one
* Tele-webinars allow us to do everything in a virtual class that we can do with a live classroom, except shake hands or get stuck in traffic.
Now you can learn in your own style in this money-saving, time-saving, hassle-saving format. You do NOT have to incur long-distance charges or call an international telephone number! And you do not have to go online to participate. Distance learning has never been easier nor more economical.
"I just want to share that I honestly feel like Julia and the School of Coaching Mastery wants us to succeed and that
is awesome. You guys do great stuff and I look forward to doing great work with you!
" - Coach Shanda Kloster
How can you save money?
The normal tuition for a 16-hour training at School of Coaching Masterty is $1150.
Coaching Groundwork Advanced is value-priced at only $897USD.
PLUS: Normally, there is an extra $100 charge to get your Certified Competent Coach Certificate, but we're currently waving that fee, so you save an additional $100, if you register for the next course!
Need to split your tuition into payments? Request installments from School of Coaching Mastery and m

ake 2 payments (Extra 10% charge). Email

info @ schoolofcoachingmastery [.] com

to make payment arrangements at least 2 days before the course starts.

This course is included in the ICF Approved Certified Positive Psychology Coach® Program and the per-hour cost is about half when you take it that way. Get 125 ACSTH for the CPPC Program, or get just 16 hours by taking Coaching Groundwork Advanced.
Best of all, you'll be on the path to coaching mastery, where you can create the life and business you really want!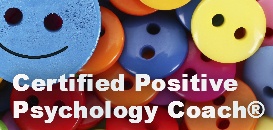 "Thank you for being great Julia! You are terrific and I look forward to taking more classes with you in the future!" - Coach Marie French, SCM-CCC
How can you become a Certified Competent Coach?
Just pass the 25-question test on Advanced Coaching Groundwork (You'll get up to 3 chances to pass each test), with a score of 80% or higher ...
Coach in class at the Competent Level or higher...
Attend 75% of classes...
And you will be awarded your Certified Competent Coach Certificate!
When is Coaching Groundwork Advanced offered next?
The new expanded version of Coaching Groundwork Advanced is offered at a variety of times. See the catalog listing to the right for the next section of Coaching Groundwork Advanced.
You'll be able to qualify for your prestigious Certified Competent Coach Certificate within weeks!
At School of Coaching Mastery, we help you do great work, so you can have the life and business

you really want. All our programs come with our Value Back Guarantee. If we don't give you the value you expect, tell us as soon as possible and we'll make it right, no questions asked.
Take the 16-hour advanced coach training course, Coaching Groundwork Advanced, for only $897USD, get your Certified Competent Coach (SCM-CCC) credential.

When you click the big blue button, you'll be taken to our course catalog. Scroll to the module/s that you want and click to join. You'll be taken to the payment page and once paid (via credit, debit or Paypal), you'll be in! Start accessing your learning materials right away ~