Coach 100 Pro
How will Coach 100 fill your coaching business with paying clients?

Thousands of new business and life coaches enter this competitive profession each year. And hundreds of entrepreneurs and internet marketers know that new coaches need clients, so selling client attraction programs to new coaches is a booming business. But who makes money on those programs? What really works?
Who can you trust to help you succeed as a coach?
Coach 100 was inspired by the legendary Founder of the Coaching Profession, Thomas Leonard, who was beloved by thousands for his genius and integrity.
Thomas was right about Coach 100!
100% of coaches who complete the Coach 100 process get coaching clients. 87% have full coaching practices, some in as little as three months! If you're a brand-new coach with no business experience, it may take six months or more.
The problem is everything else takes longer!
Coach 100 leverages the explosive power of big adventures and the viral power of word of mouth to create a marketing engine that brings clients to you, instead of you endlessly chasing them.
Don't be the coach who chases clients: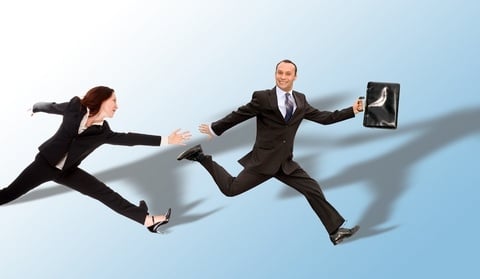 The more you chase, the faster potential clients disappear. Instead, be smart enough to use your strengths to attract ideal clients to you.
Coach your way to success.
Watch this video on how to get a full coaching practice with Coach 100:
This program is for you if you want to build your coaching business by COACHING instead of spending all your time on Sales & Marketing.

HERE'S WHY:
Get the thrill of knowing that you're succeeding as a coach, with a full coaching practice and the solid income that goes with it!
HOW DOES IT WORK?

Simple! Build your coaching business by coaching. And build your confidence, skills, and value, all at the same time.
You really can make money doing what matters to you - as long as you use a system that works!
WHAT'S INCLUDED?

This system has helped hundreds of coaches fill their businesses. 87% who finish have full coaching practices. It's an investment in

your

success and it will pay you back again and again.
Want more? Coach 100 Pro teaches you how it's done



So many so-called experts try to sell marketing programs to life and business coaches, but how many of them can say that 100% of coaches who complete their programs get paying clients - and 87% get full coaching practice?
Join the Coach 100 Revolution Now!

Our Value-Back Guarantee: If we don't deliver the value we promise, tell us right away and we'll make it right, period.
Take up to 2-years to complete this business-building program (most do it in one year or less). It could be the best investment you ever make in yourself and your business!
Still not sure? Read what real Coach 100 coaches, such as Dan Surface, have to say about their experiences. Then read what the experts (some of whom,

also

used this program to build their successful businesses) are saying about it.
"Coach 100 was the best thing I ever did to get off to a fast start in my coaching business!" – Business Coach, Dan Surface, CEC

More testimonials about the effectiveness of Coach 100 fill the borders of this webpage.
Pay with your credit or debit card or use your PayPal balance!
Coaches in the USA may take up to 6 months to pay with Paypal's Bill Me Later!