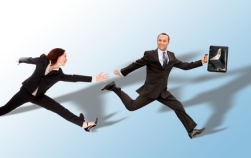 If you're a relatively new business or life coach, then the question of where to find coaching clients is probably nearly an obsession for you.
And that's as it should be.
You're in a huge learning curve and your future business depends on your ability to learn quickly and keep moving forward.
This blog post will help flatten your marketing and sales learning curve and save you from bumbling ineptitude.
As you can imagine, my coaching clients and students frequently ask me how to find clients.
Most don't ask where.
You need to know 'where' before the 'how' question can even begin to help you.
So here's a list of places 'where' you may find clients, preceded by a few places where you almost certainly won't.
Where you WON'T find clients, but you may lose respect, friends, or worse:
Friends and family: don't invite your best friend to coach with you for a fee. You're violating your relationship with her and will likely offend her and possibly lose her friendship. Do offer to coach her for free, if you like - and if she's interested. Mattison Grey calls this the Friends Channel. Don't talk business unless you're both on the Business Channel.
Other people's tribes: you may belong to communities of interest that are led by other thought leaders. Maybe all the members are on the Business Channel, but your fellow members may view you as just a peer. Don't presume they're open to becoming your clients, unless they've already expressed curiosity about how you can help them and even then, have the conversation in private. Otherwise, you'll be seen as inappropriate and tribal leaders may view you as an interloper. Better to start your own tribe.
Your coaching school: don't try to build a coaching business by coaching other coaches, especially your classmates. You may see yourself as more developed than they are, but it's unlikely they'll agree. If you SPAM them with invitations to coach, or worse, invite them to coach with you in class, you'll just look self-serving - not attractive. Do invite your classmates to trade peer coaching with you, gratis.
Social aquaintences: the folks you meet in church, at a homeowners meeting, or in line at a store may or may not be open to coaching with you. Let them ask about it. If they're just being social, just be social with them. If they seem curious, go ahead and share more - probably in private.
Places where you CAN find coaching clients:
Friends of friends of family: go ahead and offer some free coaching to your family and their friends. If they like it, ask them to refer friends to you for coaching. Sometimes it's as easy as that.
Friends of friends of friends: the closer someone is to your social circle, the more likely they are to be concerned about confidentiality, so ask friends to refer people for free coaching sessions. Ask those people for referrals. The third tier is a better bet.
People who join your tribes: start a Facebook Page, LinkedIn Group, or live networking organization. Serve your members. A lot. Invite them to complimentary sessions. The more they perceive you as a contributor to their lives and success, the more they will want your coaching.
People you meet at networking events: live networking is powerful when you know how to use it. Everyone there is 'selling' something, so the trick is to notice those who want what you have. Invite them to a free session.
People who read your blog: one of the easiest ways to build a tribe is to start a great blog. Easy, but time consuming. If you love to serve and love to write, your blog can become a powerful attractor. Use it to invite potential clients.
People who hear you speak: lead live workshops, online webinars, or teleclasses. Educate, entertain, and serve. Your listeners may fall in love with you. You can invite them to work with you, but don't be surprised if they ask YOU to coach them, first. When you're in the right place, doing the right things, sales practically take care of themselves.
So there you have some powerful DOs and DON'Ts for attracting coaching clients without offending people.
As always, it boils down to
Servant Entrepreneurship
. If you want much more...