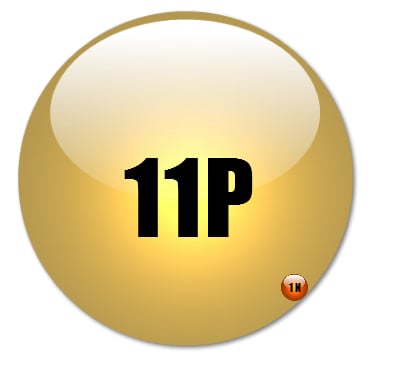 I'm always looking for new ideas that'll upgrade, broaden, or deepen my coaching, so it's more effective. You too? Then you'll love this post.
It's a challenge to keep readers like you, well...challenged. You're a pretty sophisticated bunch.
But here goes: some of the best ideas I've encountered, which ultimately changed my life and the way I coach and may change your life and coaching too.
1. The Power of Negativity. This first one is possibly the most powerful idea to come out of positive psychology. It's the concept of the Positivity Ratio and the upper limit of positivity, which can be measured as both positive thoughts and feelings, as well as whether you're curious or defending your point of view, and/or focused on yourself or on those around you. To flourish, you, your relationship, your business, or your coaching, needs at least a three-to-one ratio of positivity to negativity. AND there's an upward limit around eleven-to-one, beyond which things go down fast. So, if you're a Law of Attraction Nazi, or if you focus only on the good stuff in coaching, stepping over the problematic stuff, or if you relentlessly reframe problems into opportunities, or (as one of my clients famously put it) FLO's (F*cking Learning Opportunities), you may hinder, rather than help your clients. (Read Barbara Fredrickson's Positivity.)
2. The Tyranny of Mild Praise. This one also comes from positive psychology and it's about relationships. Let's face it, the relationship between coach and client does much of the coaching for us. Therefore, the concept called, Active Constructive Responding (ACR), is critical. What is ACR? It's an over-the-top form of acknowledgment that includes positive tone of voice (genuine excitement, awe, wonder), positive body language (smiling, eye contact, touching), repeating the specifics of what the other has said, commenting on it's importance to the other, suggesting a celebration; all of which leads to flourishing within the relationship. NONE of the other types of responses, including Passive Constructive Responding (Flat tone of voice, general praise, "That's nice."), Passive Destructive Responding (ignoring, changing the subject, turning away), or Active Negative Responding (showing concern, pointing out problems); I repeat, none of these promote relationships. In fact they ALL have a negative impact on relationships, which obviously can negatively impact coaching. I've listened to thousands of coaching sessions over the years. Even "good" coaches tend to rely heavily on Passive Constructive Response, or a hybrid of ACR and PCR, which clearly limits the value of their coaching. ACR can be a challenge to weave into coaching and for some of us, it's a challenge to make it truly genuine, but master coaches do it all the time. For others, over-using ACR (see above) damages our credibility. This is a tool that we can't afford not to master. (Read Martin Seligman's Flourish.)
3. Change Your Brain to Change Your Mind.
This one comes from neuroscience and it has profound implications for
positive psychology coaches
, as well as every other type of coach. As
members of my positive psychology course
know, the Positivity Ratio can be used to measure and increase your current potential for flourishing and it'sa nifty coaching tool. There are also tools, founded in modern neuroscience, that can change the brain to sustainably increase peace, happiness, love and other elements of positivity. Literally, you can grow some areas of your brain so that they become more dominant, relatively permanently. And over-developed areas that may be problematic (such as the over-sized amygdala of those who suffer from anxiety) can shrink, again causing sustainable change. Change your brain; change your life for good. I just took a neuroscience seminar on this, but you can read more about it. (
Read Rick Hanson's Buddha's Brain
.)
4. Coaching's Not Complete If It's Not Integral. I'm taking a course from Integral Philospher, Ken Wilber. Some people say he's the most important philosopher since Plato, but that statement begs an argument, so I won't say it. Suffice it to say, if you don't know his work, your evolution may be stymied. And that of your clients, as well. As coaches, we say our clients are whole, complete and perfect. Trouble is, we may be blind to some of that perfection. And our clients almost certainly are. Blind spots make trouble (see #5, below). Wilber's Integral Model, known as AQAL, is an elegant map that streamlines how we know anything and how we evolve. It's closely aligned with Spiral Dynamics, which I'll be teaching next month. But AQAL goes even further. The AQAL Map is a beautiful tool to use when helping our clients design accountability structures, supportive systems, environments and strategic habitats (or whatever you prefer to call them). With AQAL, we can easily see if we're leaving anything out, or if the client is blind to some aspects of reality (almost everybody is). Plus, we have an evolutionary framework. It makes the complex simple, when you understand it. I'll be teaching an introductory course on integral coaching soon, but start reading books on Integral Theory now. (Read Wilber's simplest book, Integral Vision.)
5. All Coaching is Shadow Coaching - Or Should Be. My first lesson from Zen Master, Genpo Roshi, included a joke - on us. To paraphrase, he said (with a laugh), evolved people like to say they're whole, complete and perfect, except the parts they don't like about themselves. But you can't be complete without all of it! So what parts of yourself don't you like? The part that overeats? The part that's naive? The part that gets tongue-tied at parties? It's not those parts that keep you fragmented, it's the fact that you try to disown them. Then they become blind spots, which grow into shadows, which undermine and sabotage you. That's what fragmentation really is. For many people, the first step toward wholeness is integration of the parts they formerly disliked. That's the underlying cause of stuckness and it keeps coming back until all aspects of the self are integrated (or Integral). Some people are so fragmented that they lose the ability to choose wholeness. That's what is known as mental illness and I'm not suggesting that shadow coaching can cure that. But even healthy people have shadows and we can choose to integrate them with assistance from a skilled coach. I use this approach in my Great Self Coaching. Genpo Roshi is incredibly masterful at it from a Zen perspective. (Read Genpo Roshi's Big Mind/Big Heart.)
6. Your Business Model May Be Too Infantile to Last. I've also been studying Adizes Management Methodology of late. Ichak Adizes is a legendary management consultant who deftly identified several different stages of a business life cycle. His theory explains, among other things, why the US Government is floundering these days (no, it has nothing to do with Republicans vs. Democrats). One thing that strikes me about it is that most coaches base their businesses on one of three early-stage levels and expect their businesses to continue at that stage forever. It won't happen. I'm happy to say, I saw this even before I studied Adizes and I'm ready for it. I'll write more at length on how you can design your business to last in a future post. But this issue could explain why our industry is so successful, but some coaches never enjoy that success. (Read Ichak Adizes' Corporate life cycles)
We all have access to too much information these days. But there really is no substitution for knowing the right stuff.