At the start of 2009, I joined the Compass Coaching Team as an "Affiliate Partner".
Compass had an unique business model, at least for coaching. It's a multi-level marketing company (Think: Mary Kay for Life Coaching). When I first learned about it, I thought multi-level marketing was a terrible idea for coaching. But a lot of good coaches were involved and at least one, who is a client of mine, was having a ball building her business with Compass, so I became intrigued that Compass might serve as a 'missing link', if you will, that some coaches may need in order to learn about business, marketing and sales. It also gives clients who may not be ready for a one-on-one coaching commitment a chance to dabble with coaching and experience what a life changer it can be - and then trade up to the 'real thing' when they're ready.
In short, I decided to get involved and because I have a large 'reach' (data base + social media), I joined for free.
Compass Coaching was pitched to me as a 'super affiliate' opportunity, which said to me, 'leverage your reach and integrate with your current marketing (mostly online)', but otherwise make Compass Coaching a low impact, relatively passive source of income.
Win-win-win, right? Share it with coaches who can benefit by building their businesses, change more clients' lives, and increase my own income.
Well, I have to admit, I'm a bit disappointed.
But, if you're waiting for me to drop a bomb or share a big scandal about Compass Coaching, there really isn't one. Over time, I found that Compass just didn't inspire me. Worse yet, my monthly checks hadn't grown in an entire year, even though I helped bring in quite a few new clients, coaches and reps. It wasn't worth my time and I have other projects that are much more fun and interesting.
Just to be clear, I'm not saying that life coaches shouldn't join Compass. It's a reputable company and I'm not sorry I experimented with it. If you don't experiment, you don't learn. If you're interested in group coaching and learning how to build your business via seminars and live networking, Compass Coaching may be a fit for you.
However, I believe most people go into life coaching in order to do one-to-one coaching, which isn't what Compass is about. The Coach 100 approach is actually much more effective, simpler and less time consuming than Compass and it's easier to make more money faster with it - and do it on your own terms. Coaching businesses need solid income to survive and thrive and most coaches want to start making money sooner, rather then later.
So call me biased, but Coach 100 is still the best way for most life and business coaches to building a full coaching practice, usually in under a year. Learn more about Coach 100 by downloading the free ebook, below.
[UPDATE: In June 2012, MyLifeCompass.com announced it would no longer be a multi-level marketing company for life coaching. It was unclear where the company would head next.]
[UPDATE: In January 2013, MyLifeCompass.com announced to its stake holders that it was filing for bankruptcy.]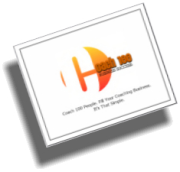 Want coaching info every week for free? Subscribe by email to the Coaching Blog in the upper right corner of this page. Or click the orange RSS button.