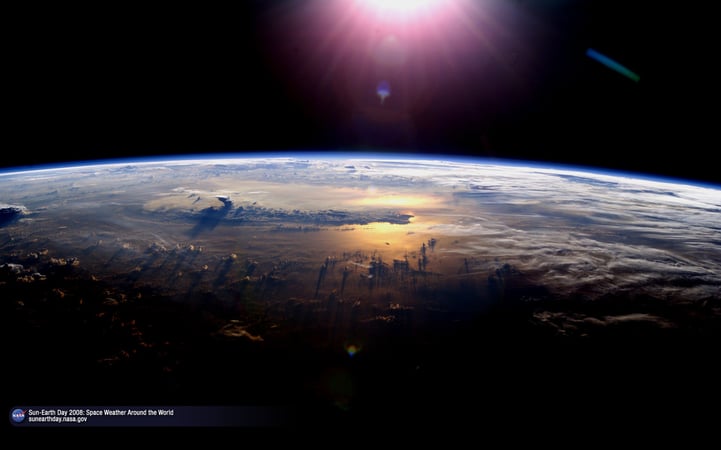 There is a broad assumption in our society that many, if not most people need to heal, as in restore health or be made whole. And while healing is a phenomenal process that can restore life to millions of people, and for which I am most grateful, I believe we are increasingly moving into a "post-healing society" and I'm not alone.
Post-healing is itself an extraordinary milestone in human evolution, which deserves to be talked about and clarified, so we all know when we are experiencing it and so we can have more of it.
I'm sometimes surprised by people who are unaware of even the possibility of a post-healing society.
So what am I talking about when I say, "post-healing society?" I'm calling it "post-healing", because at the start of something that is this complex and revolutionary, it's helpful to make a distinction between newly emerging conditions and that which went before, gave rise to the new, and is now distinct from it. Over time, I believe a different name will emerge that describes more fully what "post-healing" really is, but for now, let's look at how it is different from healing society.
Post-healing society and healing society currently overlap and will do so for the foreseeable future.
I'm talking largely about psychological healing here, but body, mind, heart, and spirit are so entwined that that distinction may not be altogether important. In fact, appreciating the inherent wholeness and interconnectedness of body, mind, heart, and spirit is a feature of post-healing.
From a psychological perspective, healing society arose and reached its zenith in the second half of the 20th Century when defining mental illnesses, cataloging their symptoms, and finding effective treatments for them became the primary focus of the fields of psychology, psychoanalysis, and psychiatry. As treatments became more effective, the impact on society was seismic. People started to understand their own differences and difficulties, as well as those of others, learned to ask for what they needed, began to experience wellness, spoke up for their rights to be treated equally and with respect, and for many, to a large degree, suffering was diminished.
When there is less suffering, new possibilities emerge.
But by the end of the 20th Century, many professionals seemed to believe there was something psychologically wrong with us all. I heard one psychologist say that everyone had something, either a neurosis, personality disorder, or psychosis; or else they had addictions, brain damage, or other neurological disorders. Another told me that in therapy, neurotic is what you want to be, because everything else is worse.
So what is healthy if everyone is ill, including apparently (since everyone has something), the therapists, themselves?
I wasn't the only one wondering about this, because positive psychology officially emerged in the 1990's as a sub-specialty of psychological research. Positive psychology is specifically concerned with studying people who are doing well, who enjoy well-being and are flourishing, so that others can learn from them and enjoy greater well-being, also.
The pioneers of positive psychology, notably Martin Seligman, went so far as to declare that the goal of positive psychology was to render itself obsolete. In other words, that the larger field of psychology would return to its original intent and cover the entire range of human behavior, rather than just focusing on what was wrong.
Here's a real-world example of post-healing. Seligman was asked by the United States Armed Services to help returning servicemen and women who have developed Post Traumatic Stress Disorder (PTSD), a debilitating illness that is particularly difficult to heal. After surveying a large number of soldiers, Seligman's team found that a small percentage, who had been exposed to many of the same horrors of war as those who developed PTSD, actually seemed to grow through the experience.
The key to growth rather than illness? It was the story they told themselves about it, in other words, the meaning they attached to the event. If a soldier told him or herself that they were at fault for the deaths of their buddies, or that they should have been able to save a friend, they were more likely to develop PTSD. If on the other hand, they told themselves that they must have been spared for a reason and that now they had an important purpose to serve with their lives, they were more likely to experience what Seligman calls, Post Traumatic Growth.
Now there is training for soldiers that can help them grow through trauma, instead of being damaged by it.
We could call this pre-healing, since it precedes the need for healing. I call it a post-healing intervention, because it comes from a mindset that sees the limitations of healing and, instead of allowing a problem to continue and then waiting to heal people from it, it has found a solution that eliminates the need for healing (An even more advanced post-healing society would eliminate the need for war.)
As an aside, I want to mention that 20th Century psychology has focused, from a scientific and medical standpoint, on many of the same issues that were once thought to belong to the realm of spirit, spirituality, and religion. Afterall, its name is derived from the Greek, "psykhe", meaning soul, spirit, or mind.
Today's "spiritual-but-not-religious" movement focuses on healing almost as much as the psychological field.
But modern spirituality also focuses on the transcendent, trans-personal, upon enlightenment, and other lofty states. Like the field of psychology that is envisioned by Seligman, spirituality focuses on the full range of human behaviors and experiences.
An example of post-healing spirituality is Zen Master, Genpo Roshi's, brilliant integration of voice dialogue therapy with modern Zen, called Big Mind. The goal of Big Mind isn't healing, but Buddhist enlightenment. It begins with the assumption that the student is already whole, complete, and perfect; including the parts s/he would like to eliminate!
An example is what Roshi calls a "disowned voice", a part of us that we judge negatively and may want to eliminate and that can become a problematic shadow. One such voice is what he calls, "The Damage". Most of us who seek out healing would love to eliminate what we consider damaged in ourselves. Some of us go from therapist to therapist, spiritual healer to spiritual healer, for years hoping to finally be healed.
Don't go to Roshi for healing, though. Instead, he completely reframes the role of The Damage. He will tell you that you are already whole, complete, and perfect, including The Damage, which is perfectly damaged. It's perfect, because it has accepted all the slings and arrows of your life, so the rest of you can remain undamaged. No more, no less.
What would you call someone who took a bullet for you? Your hero?
The Damage is a hero who accepts all the damage we would otherwise endure, allowing the rest of our selves to remain whole, complete, and perfect. It deserves to be honored and embraced. Instead, we cause suffering for ourselves by framing it as imperfect, not good enough, broken, or sick. When we go through life believing we need to heal, we sometimes keep old wounds open, we feel less than, we sometimes give away our power to healers, or we may use our condition to be less than fully responsible for ourselves.
Once you embrace that you're whole, complete, and perfect, there are no more excuses.
I'm not suggesting that these two examples of what I call, post-healing, are what everyone needs. Remember, both the healing society and post-healing society will exist side-by-side for quite a while, if not forever. I am suggesting that healing has opened the door to post-healing.
I'll use myself as another example. As someone who grew up in the proverbial dysfunctional family, I worked with a number of therapists over the years, believing there was something wrong with me. They made a big difference. But one of the most dramatic shifts that I made with any therapist was with the last, who at one point said, "Read my lips, you're healthy." Accepting that there was nothing seriously wrong with me was like waking from a dream. Suddenly, so much more was possible. I felt confident and believed in myself.
Of course, I wouldn't have gotten there without the help of some wonderful healers. And that's my point. Therapy got me ready for post-healing. And it got me ready for coaching, too.
Life coaching is, as far as I know, the first and perhaps only profession that is completely post-healing.
Life coaching and its siblings, including business coaching, executive coaching, and more, don't focus on healing clients, but rather assist clients to shift into more resourceful, and some would say, transformative mind-states that help them see solutions to problems and pathways to goals, while inspiring them to take action and create the outcomes that are best for themselves and others.
We see our clients as whole, complete, and perfect. We believe in them from the very start. We help them reframe limiting beliefs, integrate disowned voices, and experience their interconnectedness with others. As a result, they become more confident, believe in themselves, evolve into who they want to be, and create valuable changes for themselves and others. It's both an honor and an interdevelopmental experience to work with people who are discovering their true selves for the very first time.
They step into their greatness and go on to change the world for the better.
Imagine a world where all people not only heal, but reach their full potential and are inspired to transform the world. It's not a dream. Because of the good work done by healers, clients are becoming ready for post-healing and coaches go on to make transformative possibilities real everyday.
Would you like to join the post-healing society?
Find a coach here. Or become a coach. Your first step toward professional coaching might be to download the FREE Become a Coach eBook.