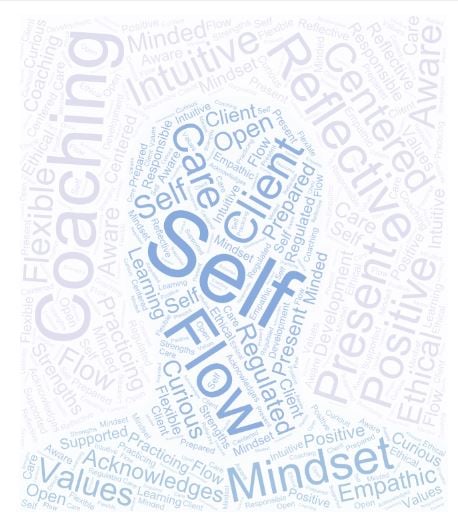 The ICF recently added the first new Core Coaching Competency in over two decades.
It's called: Maintains a Coaching Mindset.
This post will clear up confusion about what a Coaching Mindset is, why it matters, and how you can develop and maintain it. Because once you understand this, a doorway opens that makes masterful coaching possible for you.

The first thing to know is that this competency is demonstrated both outside coaching sessions as well as during coaching. In other words coaching, with its expansive positivity, curiosity, presence, and acknowledgement isn't something you just do for an hour or two and then revert to thinking and acting small. Thinking like a coach is a 24/7 commitment.

Maintains a Coaching Mindset helps counter the misconception that coaching is merely a performative skill set.
The ICF definition of Maintains a Coaching Mindset is:
Develops and maintains a mindset that is open, curious, flexible and client-centered.
Coaches need to show up this way during coaching sessions because it helps raise the client's receptivity and resourcefulness, which are key to the client's success. Great coaches do more than help clients solve their problems. They help them grow into people who stop having those problems. Plus, coaches need to show up this way outside coaching sessions in order to maintain trust and respect with clients.
Because, almost anyone can learn the communication techniques of coaching. But until they learn to think like a coach, that will limit their clients' outcomes and growth, and it will also limit the coaches' careers, because clients won't want to work with them. Why not?
Potential clients naturally mistrust coaches who are closed-minded, incurious, rigid, or self-centered; even if just a little bit.
So how do you develop and maintain a coaching mindset? Here are several approaches:
The Certified Positive Psychology Coach Program and Certified Neuroscience Coach Program can help you learn beginning-to-advanced coaching skills and develop a coaching mindset. Or read more about becoming a coach in the free Become a Positive Psychology Coach eBook.
Learn more about becoming a coach here: