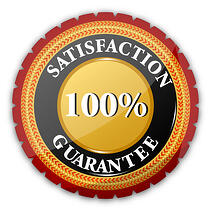 This week, a new life coach asked me whether she should offer a money-back guarantee. Some life coaches (as well as other personal coaches, like business and executive coaches) offer money-back guarantees to make it easier to close sales. The thinking is that few people ever ask for their money back, so you'll increase your sales and make more money.
That approach makes sense if you're selling flashlights, but if you're pouring your heart and soul into a personalized relationship that leads to extraordinary results for your coaching clients, the unintended consequences may outweigh any extra sales you make.
Below are some of those consequences and a suggestion for what to offer, instead. But decide for yourself. No one approach is right for every coaching business.

As I said above, the plus side of offering a money-back guarantee is that it can make it easier to 'sell' your coaching, initially. The big minus is that your clients may be less invested, both financially and emotionally. Clients who are highly invested get the best results and stay month after month, which increases your income without the pressure to constantly make sales, and it increases your clients' satisfaction, too. I call this 'the sweet spot'.

Un-invested clients get poor results and tend to ask for their money back. I learned this the hard way when I was a new coach who offered a money-back guarantee. One of my new clients quit after a month and told me the only reason she signed up was because she knew she could get her money back. You'd better believe I felt burned.

Which would you rather have: Fewer sales or more clients, but no more money? Actually, getting burned is the least of the negative consequences that stem from offering money-back guarantees for professional coaching.
Here's a bigger one: Anyone who decides to go after a big goal will have at least one crisis of confidence along the way. And people who hire professional coaches are going after big goals.
A crisis of confidence sounds something like this: 'Oh my God, I'm making a huge mistake! I just spent thousands of dollars on a life coach so I can reach my dreams. Who am I to think I can do that? And all my coach does is ask questions!? My wife will kill me if I waste that money. My friends will laugh at me if I fail. I'll feel like a loser for the rest of my life...I'd better ask for my money back and forget the whole thing. (For a real-life example of a dream nearly derailed by this type of thinking, read how Olympic Gold-Medalist, Gabby Douglas almost quit qymnastics a few months before winning the all-round female gymnist title.)
When you offer a money-back guarantee you're promising to pay your client when s/he inevitably chickens out.
The irony of money-back guarantees is that they can communicate confidence from the coach. But the most confident coaches I know don't offer them - because they don't need to. Their clients sing their praises for them and that carries much more weight than a guarantee. If you don't have great testiminals, reviews, ratings, certifications, referrals or buzz yet, maybe a money-back guarantee will help you get started.
Instead, I use what I call a Value-Back guarantee. If a client isn't completely satisfied, they're encouraged to tell me asap and together we'll design a plan for them to get the value they paid for. Both coach and client win and this way. Not only does the coach make more money, but s/he learns how to serve more clients better and the great outcomes that clients get result in testimonials, buzz, and referrals that make sales much easier than will any guarantees. (I use this approach for School of Coaching Mastery, too.)
Does this mean it's always wrong to give back a client's money? No, sometimes you may find yourself trying to coach someone you just can't help. That could drain you and your business and make it harder to serve your other clients. If you wind up firing a client, giving their money back may makes sense. (Here are some tongue-in-cheek examples of coaching clients that might need to be fired.)

Here's my last word on life coach money-back guarantees: As attractive as they sound, the truth is, no serious client really wants their money back. What they want is to get what they paid for in the 1st place. If you give back their money, both of you failed. If you work together to give them what they paid for, you both succeed.
What are your thoughts on life coaches offering money-back guarantees? I welcome disagreements! If you offer a money-back guarantee, how is it working for you? If you don't, why not?
If you have questions about launching a successful coaching business, you're in luck! The next Coaching Groundwork Advanced course is about to start and it's designed to answer your questions, so you get off on the right foot: