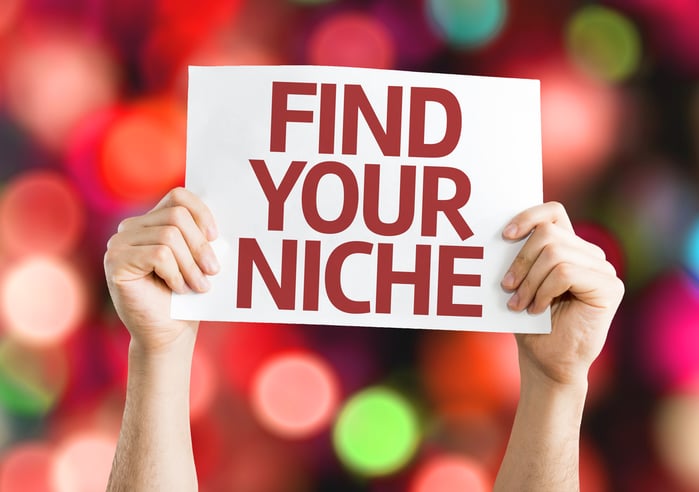 One of the biggest hurdles most coaches cross on the way to filling their businesses with clients, is finding their coaching niche.
Other terms for this include finding your target market, finding your ideal client, or identifying your avatar, persona, or favorite client. These are the people you do your best work with, who you enjoy coaching, who succeed at their goals, and who send their friends to you. Marketing gets easier once you find your niche, but not necessarily for the reason you think.
Some coaches turn "finding my niche" into a massive problem that stops them from succeeding.
That's the real problem. It doesn't have to be that way.
Here's a story:
One of my students asked me to coach him in class. His goal was to find his niche. His problem was that he couldn't get his marketing focused without a niche so he was coaching all kinds of people. I asked a few questions and found out that my student already had more clients than he ever thought he'd have.
So I shared something I learned from Thomas Leonard, the Founder of the Coaching Profession, while I was studying with him. Thomas said you don't need a niche, especially when you're starting out. He said plenty of generic life coaches were doing fine without finding their niche.
I suggested to my student that since he already had plenty of clients, maybe he didn't need a niche. He was immensely relieved and immediately reoriented around serving the clients he already had instead of obsessing over getting a niche.
Even if you have plenty of clients, identifying a marketing niche can be useful, so here are the two main paths to finding one:
1. Pay someone to help you identify your niche. I know a coach who hired a branding expert to help her identify her niche. Together, they found a very specific group of people who had problems the coach was familiar with. In fact, the coach belonged to that group and struggled with the same problems. She found a snappy and memorable domain name, set up a website, and soon had a full coaching practice. But she hated coaching her clients. So she fired them all! She said she got tired of listening to them complain because they didn't want to change their lives. She and her coach made two mistakes: They didn't identify a niche that was ready to change and they didn't realize that she wasn't ready to work with those clients, without judging them, because she was still struggling with the same issues, herself. Not everyone who pays a coach or marketing expert to help them find a niche will find their niche and not everyone who finds one will fire all their clients, but it's not uncommon.
2. Get paid while you find your niche. I know another coach who started coaching without a niche. One of his clients was so successful with his help that they referred several colleagues to him to coach on the same topics. The new clients, were also successful with his help and referred more. He had found his niche! He soon had so many clients that his business grossed over one million dollars per year. Not everyone who finds a niche this way will have a million-dollar coaching business, but it can happen.
You can start coaching without a niche.
If you just start coaching, your niche will find you. Over time, notice who your favorite clients are. Make note about what it is you like about them. In particular, notice the clients who refer more clients to you. Think about who they are, how they are, and how you communicate with them. Design a website just for them. Ask them for testimonials. Ask them to review your site and tell you what they like and don't like. Edit until they love it. That's how to market to your niche. Easy when you know how.
Our Coach 100 Business Success training program is included with the Certified Positive Psychology Coach Program and the Certified Neuroscience Coach Program, at no extra charge. It'll help you identify your niche, fill up your coaching practice, get referrals and testimonials, become a better coach, and more.
Download the free eBook to learn about Coach 100: