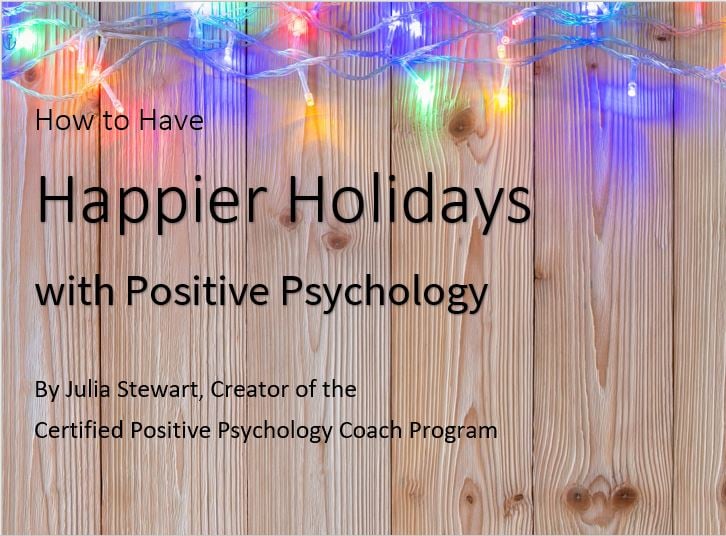 Virtually every culture has holidays coming up in the next several weeks and we all want them to be happy.
This is a fun time that we plan all year. Unfortunately, the busyness, stress, extra expenses, fatigue, and even too much togetherness it isn't always fun.
How can positive psychology help you have happier holidays?
Read on for some easy ideas that can transform difficult holidays into happy ones. You can even download a new FREE eBook to help you have more fun and less stress!
What do you love about the holidays?
A chance to see family and friends

An enriching spiritual experience

Celebrating traditions (and/or creating new ones)

The food!

The fun!
What holiday challenges do you experience?
Too much/not enough togetherness

Travel hassles

Too much busyness

Too much rich food

Trying to sleep away from home

Boredom

Bickering

Overwhelm
This holiday season, wouldn't you like more of what you love with fewer challenges?
I wrote the new free eBook, How to Have Happier Holidays with Positive Psychology to be a quick tool that anyone can read in a few minutes and get ideas for how to have happier holidays this year. It's short and simple. You don't have to do everything. Just do what speaks to you. Let it inspire you rather than limit you.
This eBook talks about such topics as:
Positivity

Love 2.0

Gratitude

Strengths

Kindness

Self-Compassion
But don't worry. This isn't a stuffy lesson on psychology. Just fun and quick tools to lighten your holidays and help make them as happy as you have hoped.
Everything in this eBook is backed by research. Truth is, there are many more ideas from positive psychology that might make a difference for you. If you want more, read one of the books listed in this eBook's references over the holidays!
Ready for Happier Holidays? Get the new free eBook here: