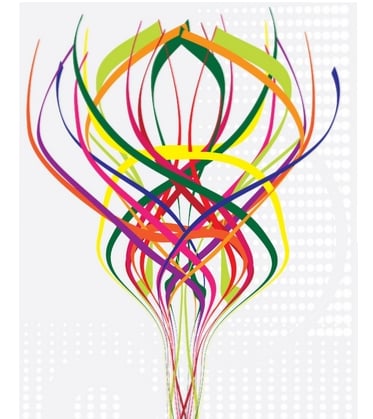 Guest post by Coach, Angela Goodeve, CCC. Angela is a member of School of Coaching Mastery's Ultimate Coach Training Program. Visit Angela's blog here. Angela is a contestant in the Best Coaching Blogs 2012 Contest.
Ok, Spiral Dynamics Coaching is a little complex, so if you are in a light mood, or it starts giving you a headache, you may want to bookmark this post until later!!!

When I first started leaning about Spiral Dynamics at School of Coaching Mastery, my first reaction, like many others, was "huh??"; My second reaction was "hmm, this is interesting…"; my next was "wow, this is REALLY interesting"; and my next was "Why haven't we heard of this before???".

I have a four-year degree in Psychology, have attended many educational conferences, and have been into personal development for a very long time, but not once have I heard of Spiral Dynamics until studying it at School of Coaching Mastery, at least not in a meaningful and detailed way!
This is what I have learned so far about Spiral Dynamics:


Spiral Dynamics has been used with individuals; governments; and in marketing, and has been beneficial in all of these settings;
This psycho-social-spiritual theory was first proposed by psychology professor, Clare Graves, PhD, in the 1950's, and has been referred to as the "The Theory that Explains Everything" by MacLean's magazine. It was later clarified by Dr. Don E. Beck and Dr. Christopher Cowan in their seminal book, Spiral Dynamics, Mastering Values Leadership and Change; and
The theory combines biology, psychology, and sociology in trying to describe differences in human thinking and behavior.

So, what IS Spiral Dynamics???

Spiral Dynamics describes human thinking in terms of an evolution of individual and societal value systems. According to the theory, each individual, culture, and society follows a succession in levels of thinking, that are characterized at each stage as a different value system that guides not only the person's thinking, but their behavior, and their interaction with others, and the world around them.

Each stage, for simplicity, has been organized into a color system that describes different value systems and ways of thinking.
The key things to remember when learning about these value systems and stages are:
There is no "right" or "wrong" way of thinking;
That the world needs people who think at different levels along the "spiral" to survive;
When we move on to the next "stage" we integrate the values of the previous "stages" so that we can utilize them if needed;
A person, culture, or society can "spiral" back to a previous stage in certain circumstances, and may become "stuck" at an earlier way of thinking;
Lower levels are not aware of the existence of the higher levels;
Individuals and Societies are best served by leaders, including coaches, who are thinking at the higher levels, who can recognize others at different stages along the "continuum", and use this knowledge to help solve issues according to the applicable ways of thinking, or value systems.

The "stages" are as follows (they will be described in terms of the individual for simplicity):


Beige – At this stage, the individual's mainly thinking of survival, much like an infant 's physical concerns and biological needs;
Purple - The individual sees the benefits of a Family/Tribe, and safety and security in numbers. Much like a toddler they are influenced by ritual, and believe in the "guidance" of their "Chief", or Parents.
Red - This stage is very egocentric, and adheres to the principles of: dominance, power, and control, much like teenagers typically assert themselves;
Blue - Sees the world, and interacts with it, according to rules and authority that they believe brings stability, order, and meaning;
Orange - Evolves in their values and thinking towards achievement, competition, and success. They thrive on opportunities, and are driven to a "better way of living".
Green - Is concerned with humanity, love, harmony, and purpose (think 60's hippy!!)
Yellow - Places high value on flexibility, independence, and a certain knowing about themselves. They care less about what others think, and more about doing what one chooses, an existential way of being.
Turquoise - Is a more holistic way of thinking, in terms of consciousness, life force, and the "global community".

So, what does this all mean to coaches, and how is learning about this going to benefit us in terms of our interactions with, and understanding of others?

For one, it reminds us that we are all individuals, with different value systems, ways of thinking, and different ways of interacting with the world. It therefore follows that we cannot assume that any individual does, or should think the same way we do.

Knowledge of this theory can also help us in coaching and communicating with others, whether it is on an individual level; through professional coaching, via marketing; or in a more global sense. If we can understand where another person is coming from in term of their values and thinking, then we can tailor our communications to that person, audience, or community to foster a stronger connection.

As Coaches, if we can understand where our Clients are coming from in terms of their values and thinking, we can help them find solutions that are appropriate for them, and that will resonate with them much better!

Since this is a pre-pre-101 to Spiral Dynamics blog article, you may want to visit some other sites to read more about it: I found this one helpful in deepening my understanding.

You can also take the Introduction to Spiral Dynamics for Coaches at School of Coaching Mastery.

If you have heard about Spiral Dynamics, I would love to hear your comments! Let's get the discussion going!

Peace and Love,

Ang :)
School of Coaching Mastery teaches a Spiral Dynamics course tailored to the needs of business and life coaches. It's part of the Ultimate Coach Training Program: