Positive Psychology Coach Training School
Positive Psychology is the Future of Coaching.

Positive Psychology and Neuroscience Coach Training for
Life Coaches / Business Coaches / Executive Coaches
What's your biggest concern about joining a coach training school?

Is it the cost? The time? The certification? Probably not. In my experience training professional coaches since 2003, the biggest concern is: Will I be successful as a coach? Because that's what you ultimately want. Your training may last a year or two, but if you're like most, what you really want is to be a successful coach with plenty of clients.
Can you be successful as a coach and even coach from home? Yes, coaching is always in demand (demand tends to increase during difficult times) and we specialize in virtual coach training and preparing our coaches for successful coaching careers even if they don't want to leave their homes. It's totally possible and we'll show you how.
No coach training program can make you successful if you don't put in the time and effort. That said, some schools have a better track record of graduating successful coaches than others.

A recent survey of our Certified Positive Psychology Coach Program found that 100% of our graduates were coaching professionally and 75% were coaching full time.
We're thrilled with that result. Everything about the program is designed to produce great coaches.
"When you have achieved a credential through Julia's school, you know that you have the skills to be a world class coach."

- Paula Facci, PCC, CPPC
Here's a secret that most coach training schools won't tell you: 79.6%* of life and business coaches are less than thrilled with their coaching businesses.
What!? Professional coaches are in the business of helping their clients succeed with their dreams. So why are only 20.4% of coaches reaching their own dreams?
Each coach is different, but poor preparation and lack of commitment are two big, big reasons why some coaches don't it. And both are easy to address regardless the economy or any other external conditions.
Why would I tell you something upfront that might

deter you from becoming a coach? Because I'm a veteran Certified Mentor Coach who has heard every problem there is from new coaches. I've coached many of the top coaches in the field and I designed this school to address every key coaching problem right from the beginning. So our students have the best possible opportunity to join the ranks of the top 10-20% of coaches who say they are thrilled with their coaching success.
If you're going to become a coach, become one of the 20% who are thrilled with their coaching careers!
That's why before you take that big leap into becoming a coach and spending thousands for coach training, you need to get very clear about two things:
Is coaching really the right career for me?

How can I learn what I need in order to become a successful coach?
That's why we created so many free resources. So you can answer those questions for yourself, without investing thousands of dollars first. We're giving our visitors the opportunity to explore professional coach training with no strings attached.
If you decide that becoming a professional coach is not for you, no problem, the new communication and relationship skills you learn from us for free just might transform your life, anyway.
If you decide that becoming a professional coach is your true calling, but the School of Coaching Mastery approach isn't your style, no problem again. Your free training will help you succeed, no matter where you study next.
If you decide that becoming a successful coach is your destiny and you love the School of Coaching Mastery approach to preparing you to create the life and business you really want, then the CERTIFIED POSITIVE PSYCHOLOGY COACH Program may be perfect for you.

When you complete your program, you will become a Certified Positive Psychology Coach® with the International Association of Positive Psychology Coaches (IAPPC).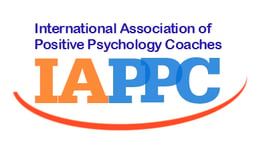 We have many more coaching resources for you.
Get the Certified Positive Psychology Coach credential. When you join the Certified Positive Psychology Coach Program or the Certified Neuroscience Coach Program, you get membership in the International Association of Positive Psychology Coaches, as well as certification, at no extra charge.
The purpose of our free resources, are to give every coach the tools he or she needs to get off to a successful start, without spending a ton of money first. That said, starting a successful business is never really free. It always requires an investment of time, effort, money and love. Use these tools to determine which programs and tools you most need to invest in. A program that brings you the business you want and the income you deserve, isn't an expense; it's a good investment.
For some coaches, the next step is the Certified Competent Coach Course, an 8-week, 16-hour live distance-learning program that can yield your first coach certification for a relatively low fee.
But if you want to get off to an amazing start, the Certified Positive Psychology Coach Program is designed to help professional coaches get off to the best possible start, so when asked if they're thrilled about their businesses, they're among the 20% who say, 'YES!'
Life and business coaching has grown and changed for the better. This is a great thing for coaches and coaching clients. And now there's a school that reflects this amazing growth. We're so sure that we can assist talented coaches become successful faster, that we challenge you to find another coaching school that gives as much value for your money.
If you're thinking about coach training, you can have a lot more fun and success by joining a coaching school that teaches mastery from the ground up: Coaching helps everyone enjoy their work and be more productive. And it's fun to learn. Everybody wins!
School of Coaching Mastery will train you to become a coach and take you all the way to mastery and coach certification and a full coaching practice. You can add coaching skills to your current resume, become a professional Life coach, Business Coach, Executive Coach, or Wellness Coach and/or step up to mastery and qualify for the gold standard in coach certification. We'll also teach you how to attract coaching clients and give you tools to get started quickly.

Whether you want to coach in your current career or become a professional coach, we have a flexible coach training program that works for you. We also have an abundance of resources and tools to support any life coach, business coach, or executive coach. Just follow the links...
Phone: +1-877-224-2780

Email questions or comments here
Our coaches are already achieving IAPPC coach certification
and are going out and doing great work, opening up whole new worlds for their clients and by extension ~ transforming the world.
This is our mission: To help bring more masterful coaches into the world and do it faster. If you love to grow, you can be one of these coaches!
This is a greenhouse environment for self starters who are ready to step up.
If you want to jump into professional coaching with both feet, this is the place for you. If you'd rather hide out undisturbed and never change, think twice about joining us! ;-)
Our coach/students are courageous, fast learners. Amazing new coaches join us and many of our experienced coach/students have been trained elsewhere, and/or have been coaching professionally for years. If you want to learn the simplest and most powerful coaching skills quickly, along side other talented coaches, you may find the School of Coaching Mastery is perfect for you.
And of course, you're welcome to contact us:
Email questions or comments here
* 79.6% statistic from School of Coaching Mastery's own 'Do you need coach certification?' survey of 2,678 coaches, as of June 7, 2018. This survey has been collecting data since 2009 and the 79.6 percentage has held steady since September 2010.

Julia Stewart Coaching & Training LLC
P.O. Box 221628
St. Louis
MO 63122
Phone: +1-877-224-2780 (TOLL FREE IN US,CA,PR,GU)