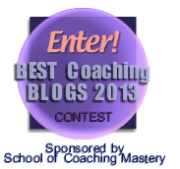 Each year, at about this time, people start visiting our site, looking for the Best Coaching Blogs Contest and this year is our Fifth Anniversary, so it's going to be extra special. Best Coaching Blogs is the only coaching blog contest, that we know of, which is decided by popular vote and that's hugely important.
For instance, this blog, the Coaching Blog, was named Number 3 in the Top 100 Life Coach Blogs of 2013, which is awesome. But it would be even more awesome if our readers, subscribers or fans voted it #3, because they're the folks we write it for. And that's the coolest thing about Best Coaching Blogs.
Best Coaching Blogs contestants attract more readers, subscribers, fans and even clients just by actively participating in this contest - especially the bloggers who make it into the coveted Top Ten. Either way, it's cool to be able to refer to you 'award-winning blog' ever after.
Hundreds of coaching blogs have been entered in Best Coaching Blogs over the years, so it's super cool to win it and each year, there seems to be an upset or two, with surprise winners coming from out of 'nowhere'. That makes it fun for everyone, whether you're a new coach or a big coaching organization.
So how do you enter Best Coaching Blogs 2013? This year, the contest will run a little later. Instead of running for one month in late spring or early summer, the actual contest will run in July and August this year. But you can enter as an early bird and get a head start on winning.
Click the button below and fill out the quick form to join Best Coaching Blogs 2013 for free. Then make sure you write some award-winning-worthy content between now and then. The contest tends to be won based on your most recent blog posts. Also add the contestant badges to your site and plan your social media campaigns. The bloggers who actively promote their blog entries via social media have the best chance of winning Best Coaching Blogs. Good luck!