Emotional Intelligence and Leadership Coaching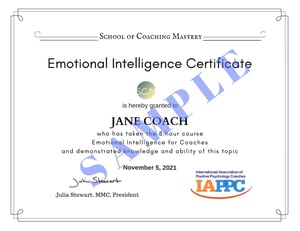 Emotional Intelligence and Leadership Coaching is for the experienced coach.
There is a remarkably high correlation between high emotional intelligence and success. We'll study how leaders can become more aware of their own emotions and those of others, as well as how to manage their own emotions and respond effectively to those of others.Leaders, whether they are executives, managers, business owners, teachers, parents, or even coaches; need high emotional intelligence, because the performance of those they lead depends on their ability navigating their feelings and inspire their best work . Virtually everyone is a leader sometime. This course is designed for the more advanced coach who coaches around leadership. It integrates research into emotional intelligence with related fields, such as positive psychology and appreciative inquiry, and integrates them into effectively coaching. Participants will come away with an understanding of emotional intelligence applied to coaching leaders. Successful completion of the course will bring confidence, understanding, new skills and applications, as well as a certificate of completion and eight ICF credit hours.

This course is included, at no extra charge, in the new Master Certified Positive Psychology Coach program and is available at a 40% discount for current members of the http://www.CertifiedPositivePsychologyCoach.com program
Introduction to Neuroscience for Coaching will help you understand:
Where positive psychology and emotional intelligence overlap.
The dynamic between Positive Emotional Attractors (PEA) and Negative Emotional Attractors (NEA).
Why only coaching around positivity can be disastrous for your clients.
What parts of the brain and other human information processing systems are activated during positivity and negativity.
How resonance is created in relationships.
How to leverage negativity for even better coaching outcomes.
Why leaders need emotional intelligence even more than most.
How to put all of this into practice, and more...
Your live, interactive webinar classes, which you can take from anywhere in the world, will introduce you to the research, theories, assessments and tools used in coaching with neuroscience.



Who is Emotional Intelligence and Leadership Coaching for?


If you're an experienced coach who wants professional training, Emotional Intelligence and Leadership Coaching is for you.
We recommend a background in positive psychology and neuroscience (click the previous links for prep courses)
If you're a coach who has had coach-specific training and is ready to advance, this could be the next step for you
If you're a coach who prefers to learn in an interactive live webinar, with feedback and grades, but no time or money wasted on travel, this program is for you
If you're a coach who's interested in getting a Emotional Intelligence Certificate, this is your opportunity
If you're a coach who is savvy about investing in your success, this is a fantastic opportunity for you to learn and SAVE
If you're a coach who sees the value in evolving yourself and your clients, sign up now, because seating is limited
If you're a member of the Certified Positive Psychology Coach Program, you will receive a 40% discount on Emotional Intelligence and Leadership Coaching and 40% off the new Master Certified Positive Psychology Coach program
Finally, if you're a great coach, you're probably curious about the coaching with emotional intelligence and what it can do for your clients. This is your perfect opportunity to find out.
How is Introduction to Coaching with Neuroscience delivered?
You'll take four, weekly 2-hour tele-webinars* led by SCM President, Julia Stewart, MMC
Each class is conversational, highly interactive, fast paced and fun
Each webinar is accompanied by an in-depth written Coaching Guide (included at no extra charge) that provides you with details about successful coaching - both the skills and the business, or with exercises and feedback forms
You'll get opportunities to practice what you learn immediately, so you internalize it and can then use it with your coaching clients
Every webinar is recorded, so you can view/listen again, as often as you want, 24/7
At the end of the last class, you'll take online test that covers what you just learned. Pass with a score of 80%, as well as 75% attendance, pledge to uphold Best Practices for Professional Coach, and qualify for your Emotional Intelligence Certificate
If you don't pass the test on the first try, a test link will be emailed to you the following day and you can retake the test
Your Emotional Intelligence Certificate and website badge will be emailed to you
Enjoy the prestige of earning a certificate from School of Coaching Mastery
You'll have the option of being listed on the School of Coaching Mastery website, along with other recipients of the Emotional Intelligence Certificate
* Interative webinars allow us to do everything in a virtual class that we can do with a live classroom, except shake hands or get stuck in traffic.
Now you can learn in your own style in this money-saving, time-saving, hassle-saving format. You do NOT have to incur long-distance charges or call an international telephone number! And you do not have to go online to participate. Distance learning has never been easier nor more economical.
How can you save money?
Normally, there is an extra $100 charge to get your Coaching with Neuroscience Certificate, but we're currently waving that fee, so you save $100, if you register for the upcoming course!

Best of all, you'll have skills and tools that are proven to work, so you can create the life and business you really want!
How can you earn a Emotional Intelligence Certificate?
Just pass the 20-question multiple-choice online test on the coaching with neuroscience (You'll get up to 2 chances to pass the test), with a grade of 80% or higher...
Attend 75% of classes...
And you will be awarded your Emotional Intelligence Certificate!
When is Emotional Intelligence and Leadership Coaching offered next?
Emotional Intelligence is offered two-to-three times per year on different days of the week and different times to accommodate our international students
View the dates and times for the next course to the right
You'll be able to qualify for your prestigious Emotional Intelligence Certificate within weeks!