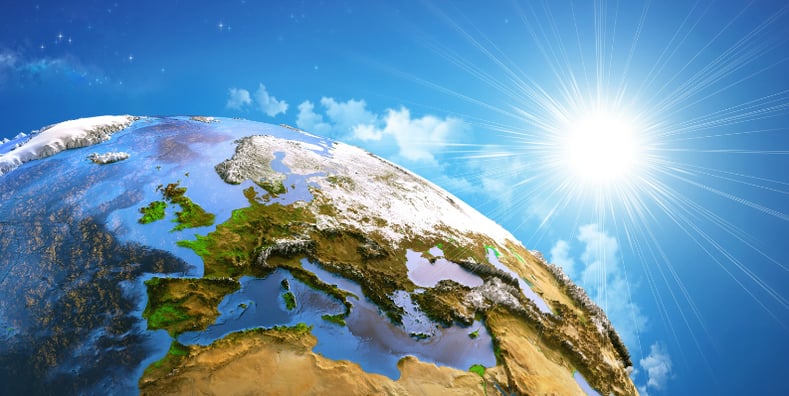 It's often referred to life coaching or executive coaching, but truth is, all forms of coaching have a lot in common and all forms are evolving quickly.
If you are a coach, you need to stay ahead of the trends, so here goes...
Four Major Trends Impacting the Future of Coaching:
1. CLIMATE: 99% of scientists now agree our climate is changing dramatically and we are the cause of it. Woe to those who ignore what is the biggest mega-trend in human history because they will be left behind.
In 2017, Vice President Al Gore, at his Pittsburgh Climate Reality Leadership Training, said it's too late to stop the climate from changing. It's going to get worse and it won't return to "normal" in our lifetimes. Although there is still much we can do to slow it and eventually reverse it, we need to focus on resilience in the meantime. In other words, we need to make changes so we, and all life, can survive and thrive.
Resilience is the focus of positive psychology and coaches are uniquely skilled to help people of all types experience resilience despite challenges and to flourish under difficult conditions, but we only have about ten years before things get crazy worldwide.
It is said opportunity arises from chaos. Therefore more opportunity will arise within the next decade than ever before in human history, for both coaches and their clients.
What opportunities? Here are a couple of forms of coaching needed to mitigate the effects of the coming catastrophes:
Pre-Traumatic Growth Coaching is really about inoculating people against PTSD before they experience trauma by shifting the stories they tell themselves. Can it really be that simple? Based on the research of positive psychology founding father, Martin Seligman, apparently it can. And there is value in it even if they never experience a trauma.
Then there is Post-Disaster Coaching, something I've specialized in. When a major disaster hits a community, whether it is a natural disaster, terrorism, war, or something else, the most insidious after-effects for those who were spared from direct impacts of the disaster are overwhelm, despair, and depression. These feelings steal people's optimism and motivation and cause some to give up on their most cherished dreams, which amplifies the disaster. Most people will bounce back if they are already resilient, but if they get coached within a few days of the disaster, before depression sets in, they may skip it altogether and quickly see through the chaos to the opportunities. Then they can be a positive force to those around them. (For those who are already traumatized or depressed, though, therapy is often the best choice.)
Does this sound awful? It's not. I lived in New York City during the 9/11 disaster and all my clients were directly or indirectly impacted. It was a gift and a joy to coach them through what could have been a lasting nightmare and help them find their way back to flourishing, instead.
Don't want to coach around trauma and disaster? No problem. But do be a leader in the field of resilience, both emotional and practical. On the emotional side, practice self care, personal development, and spiritual awareness, so your potential clients see a model they can emulate. These bolster inner-resilience. Do prepare yourself, your home, and your business to withstand anything. Install back-up systems for your back-up systems. Intelligent design combined with redundant systems are keys. And of course, changing your habits and energy sources matters. Get started now. For example, air travel is, by far, one of the worst things you can do to the climate. Whenever possible, opt for meetings via the web rather than constantly flying. We're all connected so there is no self care without caring for everyone.
Live, work, shop, and vote like everyone's life depends on it.
2. The End of Work: You've been hearing that artificial intelligence and robotics will eliminate most of today's jobs within the next couple of decades. The good news for coaches is that the skills of coaching appear harder to automate than those of medicine or law, which makes coaching relatively immune to this trend. However, your clients likely won't be immune.
The so-called, gig economy, has already arisen in response to the disappearance of jobs but many are discovering that working for others part-time just doesn't pay and they are starting their own businesses, instead. In a way, this is a return to an earlier time when most people didn't work for large corporations, but for themselves, often as farmers or shop owners. The real difference today is technology and what we sell: often services rather than goods.
What makes this trend scary, though, is that people have spent decades, and even generations, working for paychecks. The need for people to transition from "employee mentalities" to "self-employed mentalities" can be scary and confusing and that creates a big need for business coaching. Currently, in-house coaches who coach within large organizations, often corporations, is strong. With the end of work, coaching may shift away from corporate coaching toward more small-business coaching.
What if universal income catches on? Some say governments will have to pay people not to work. What will they do instead? That's a question for life coaches. What will happen to career coaches? The definition of "career" will change from vocation to avocation. Living one's values will become easier and more desired than ever.
Coaching has always tended to focus on clients who are going through transitions. Between the climate crisis and the end of work, everyone will be going through transitions, sometimes major ones, all of the time.
The end of work is really the rise of working for oneself and for what matters most.
3. Coaching Research: Research on coaching goes back decades but has increased to where it is fine-tuned enough to genuinely describe great coaching. And top researchers do seem to understand what great coaching is. Some of their findings simply confirm what coaches have been observing for decades. Some add surprising twists to what coaches have always done and help us target interventions more effectively. Some research contradicts what many coaches previously thought.
More research = more research-based coaching. Evidence-based coaching is booming. Whether your background is in positive psychology, emotional intelligence, neuroscience, or some other approach, you needed to point to your training and certifications and keep those up-to-date. At the same time, heightened intuition and advanced communication skills will be as important as ever. To paraphrase Dan Siegel:
Coaching must be informed by science, but not constrained by it.
4. Personal and Cultural Evolution: The world is changing faster than ever before and that requires people to change themselves and the way their communities work. Old values such as "short-term profits" are being replaced by newer values, such as "people, planet, and profits". More people expect to live their values but there's a need underlying rapid evolution: Because before we can thrive, we must survive.
Rapid change is hard but not changing will be much harder. That creates another need for coaches and perhaps a specialty in helping others evolve. Educate yourself on what is needed and stay ahead of the curve.

There is great pain in the world and there will be even more to come. Coaches can be a vital force for good. Please consider joining this profession.
School of Coaching Mastery is a climate-aware coaching school. We have only distance-learning classes because they are convenient and effective, but also because they reduce the amount of air travel our coaches engage in and prepare them for long-distance coaching. We also have an emphasis on preparing coaches to have their own successful business. All our trainings are evidence-based and include awareness of the ways humans are evolving and how coaches can assist them.
Want to learn more about evidence-based coaching? Download the free Become a Positive Psychology Coach eBook.