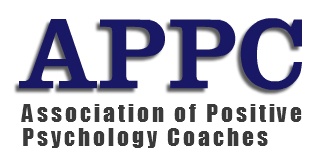 I have exciting news plus a request for assistance. We have an opportunity to shape the future of positive psychology coaching and I want you to help – and benefit - from the results!
Please help us design the new Association of Positive Psychology Coaches (APPC). It's a networking and learning organization for professional positive psychology coaches and people who are interested in joining this fast-growing profession.
Membership is currently fre*e.
A little history: The APPC is a joint brainchild of certified positive psychology coach, David McQuarrie, CPPC, and me, Julia Stewart, founder of the Certified Positive Psychology Coach® program. It's just getting started, right now.
What's the plan? The APPC is a networking and learning organization specifically for positive psychology coaches, who have interests and concerns that are not fully addressed by existing professional organizations. These include:
What are the current opportunities opening up for positive psychology coaches, like me?
What is the latest research in positive psychology and, more importantly, how do I successfully apply it in my coaching sessions?
How do I meet, get to know, and collaborate with other positive psychology coaches?
How do I market my positive psychology coaching and attract the people who want to hire me?
How do I make a name for myself in positive psychology coaching?
What the APPC isn't: We're not designing the APPC to compete with the ICF, IOC, IAC, or any other professional coaching organization, nor any positive psychology organization, such as the IPPA. We have no plans to certify coaches and the APPC is not a coach-training school. Also, the APPC is not a not-for-profit, 501c organization – yet. It will be supported by School of Coaching Mastery until it is self-sustaining, but positive psychology coaching is much bigger than just us, so we plan to expand.
As I said, we are just getting started and you have the opportunity to get involved and influence the direction of this exciting new profession.
How can you help? I was hoping you'd ask…
I'd love to know how the APPC can best help YOU with your positive psychology coaching career. Our original idea was to host virtual networking sessions and interviews with top scientists, authors, and teachers; plus showcase leading positive psychology coaches. But is that what YOU want?
How can APPC serve you in a way that other organizations do not? Specifically, what are your concerns that aren't fully addressed elsewhere?
If you'd like to get involved, answer a few quick questions below, and you'll be taken to the page where you can sign-up to join APPC, fre*e!
[UPDATE May 5, 2016: The survey mentioned in this email is now closed. Thanks to everyone who filled it out - very helpful! Our first meeting will be on May 18th. To join the APPC (currently free of charge) and get email updates, invitatioons to meetings, and more; please join the APPC here: