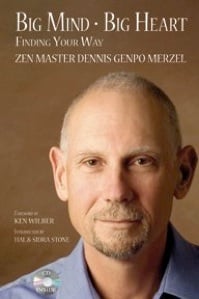 I spent last weekend in Denver at the Vast Sky Conference with Zen Master Genpo Roshi, Ken Wilber, Bill Harris and Bernie Glassman Roshi.
Mind blowing doesn't begin to describe it. For me, the two highlights were:
1. Reconnecting with my former coach, Anna Dargitz, née Hodge, who took me out for a wonderful dinner and introduced me to her husband, Les. They have built a beautiful life together. So inspiring!
2. Participating live in a Big Mind/Big Heart workshop with Genpo Roshi. I had done it via DVD, so I thought I knew what to expect, and it was all that, but live is soooooo much more powerful!
Nothing has ever resonated with me more than Big Mind/Big Heart. I came home wondering if I should just move to the Big Mind Zen Center in Salt Lake City for a year. And I'm not even a Buddhist!
All the other presenters were also amazing. In fact, I went because Ken Wilber was there. He has been suffering from a chronic illness and doesn't travel for speaking engagements these days, so I felt now was the time to see him. He is the genius behind Integral Philosophy, who can speak as an expert (often THE expert) on a thousand subjects. Looking frail, thin and a bit older, he did not disappoint. (I award the prize for coolest entourage to Ken's gaggle of 30-ish men, all dressed in dark glasses, shaved heads and elegant suits with cool graphic T's peeking out - exactly Ken's own look.)
Genpo, on the other hand (or Roshi, as his followers call him), was totally down to earth, beaming with unconditional love and erupting with an irreverent sense of mirth, a total revelation. He has perhaps the cleanest energy I've ever experienced.
Big Mind/Big Heart is a raucous and fast path to enlightenment, especially when experienced live in Roshi's presence. He bids many of your 10,000 "voices" to come forth and speak, including your disowned "shadow" voices, sometimes for the very first time. I discovered, among others, that I have a disowned fundamentalist (no real surprise) and a disowned narcissist (who knew?).
Ultimately, the purpose of Big Mind/Big Heart is to lead you deep down the path of Buddhist enlightenment in far less time than the monks of old have attained it. He combines a Western Process called, Voice Dialog, with the Eastern philosophy of Zen. It is revolutionary and it is fast. Although deepening it will likely require discipline and practice for a life time. But who wouldn't want to become enlightened when it's this much fun?
Roshi's mission is to enlighten many more souls, because as he says in the book, Big Mind/Big Heart,
"We're at a point in our evolution where we all have to become conscious."
Naturally, as a coach, I appreciated all the ways that Roshi shows up as a masterful coach: Curiosity, Acknowledgment, Challenge, Humor, Unconditional Love, and all the other skills of coaching, but with a group of 70 people who all get coached simultaneously. Wow.
Obviously, I recommend that you dive into all the tools that Roshi and his team have created, so you too, can become enlightened in a hurry:
DVD's, CD's, Books, streaming video and of course, live events. He'll be in NYC and Houston with Centerpointe's Bill Harris this Fall. BE there, if you can. Visit
BigMind.org
for more info.
[UPDATE: On February 3rd, 2011, Genpo Merzel announced that he would disrobe as a Buddhist monk, after admitting to improper relationships with some students. He plans to continue teaching Big Mind on a secular basis and will no longer teach at Kanzeon Zen Center.]