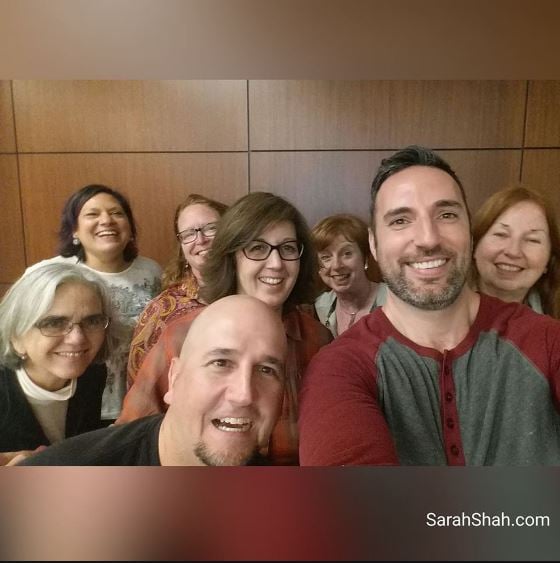 I asked Houston Business Coach, Mattison Grey, if I could interview her, because after 20 years of success, I knew she had insights that other coaches would want to know.
A few weeks ago, Mattison celebrated her 20th "Coachaversary", meaning she's been coaching professionally - and blowing minds - for 20 years. I traveled to Houston, along with many of her current and former clients, to attend the impressive celebration, followed by a mysterious "quest collage" workshop, the next day.
Here pictured are several of us at the workshop (No, we're not on jury duty!). You may recognize three current/former SCM students, Matt Connor middle front, Eric LeJeune, who's taking the selfie, and Nancy McCabe between them, way in the back. Mattison is half-hidden, third from the left (appropriate because coaching is all about your clients). I'm at the far right. Also pictured from left are Gika Rector, Sarah Shah, and Kathi Crawford.
The 42-minute interview recording is below. We cover topics like...
What was it like way back in the olden days of coaching?
How did she succeed so well when some coaches struggle?
What's a typical week like for Mattison?
How to distinguish yourself from other coaches.
Why saying things like, "My life is my certification," will drive away potential clients.
What does the future hold for coaching?
A whole lot more. Listen below...
Mattison has an awesome offer for you and it's free:
Acknowledgement Hotline - Do you want to be fully acknowledged for something?
March 2 - December 28, 2018 3PM Eastern/NY Time (UTC-5)
[UPDATE: This is a new number. If you copied the old number it won't work.]
Dail in # +1 712-832-8321
Participant Access Code: 1432672
The acknowledgement is free, but you may have to pay long-distance fees, depending on your carrier. Learn more about acknowledgement with the book, The Motivation Myth by Mattison Grey and Jonathon Manske
Get acknowledged by a trained acknowledgement expert including Mattison, Eric Lejeune, Sarah Shah, and Kathi Crawford.
Listen here to the video interview online (no need to call in)
Would you like to tell people the secrets to your success, someday?
Coach 100 has been helping coaches fill up their coaching practices for 14 years. You could be one of them. Download the free eBook here: