Have you worked with monster coaching clients?
Every master coach has at one point or another, because it's tempting for life and business coaches to try to help everyone - until we get chewed up and spit out.
If that's happened to you, thank those monster clients for teaching you a critical lesson in your master coaching career: You can't help everyone and if you don't choose your coaching clients well, you can't help anyone.
Here are ten types of coaching clients you should run from like they're Tyronnosaurus Rex:
Failus Gnossos - The client who thinks like a failure, no matter what. This client will spend their coaching sessions trying to convince you that it's not their fault; everything is going wrong because life's not fair. Yes it's true; life isn't fair, but it's the folks who take responsibility for what happens in their lives who succeed. If your client thinks this way on a frequent basis and your efforts to shift their focus are unsuccessful, suggest they work with a therapist, instead of a coach.
Controllos Everythingess - The client who tries to control their end of the conversation - and yours. Speaking of therapists, I once has a therapist client, who tried to psychoanalyze me while I tried to coach her: "Why would you ask me that?", "Why do you think that is?" Needless to say, the coaching sessions were a waste of her time and mine. Coaching clients need to be collaborative to benefit from coaching. That doesn't mean you control everything; it means the two of you are partnering for their benefit.
Responsibilities Nothingess - The client who refuses to take responsibility for anything. One of my clients had already worked with several coaches. She told me that none of them delivered on what they promised. I found her impossible to work with, because she kept making me responsible for her choices. I ended the coaching relationship with her early and I'm pretty sure she told her next coach that I didn't help her, either.
Dirtus Cheapess - The client who has a scheme to get more out of you for less. This type of monster coaching client comes out more during a recession, but the hard-core version is around even in boom times. Probably a fairer name for them is, 'misguidedly frugal'. You know the type: The distant aquaintance who calls for free coaching help because afterall you're 'friends', the total stranger with the sob story who wants you to coach them for free, the person who requests a complimentary coaching session with you, but who nervously ends it early when you mention continuing the relationship. As a master coach, you know people will move mountains when they really want something, so don't be overly sympathetic with people who want more from you than they're willing to pay for.
Nano Inspirationess - The client who is uninspired to the point of being depressed. It's easy for me to have compassion for depressed people, because I occasionally suffer from mild depression, myself. Unfortunately, even mildly depressed people are hard to coach, including me! I once gave a complimentary coaching session to someone who wasn't inspired by anything. When I broached the possibility that she was depressed, she told me that although she had been suicidal at one point in her life, she didn't think she was currently depressed. I'm no psychotherapist, but that was enough for me to decline to coach her. Depression is a serious problem. Trying to coach someone who is depressed is a serious mistake.
Victimus Dramaticus - The client who could 'really benefit' from coaching if they were just willing to let go of their perpetual dramas and victim status. Many new coaches fall for this mistake: They have a friend or relative who is in constant crisis and the coach just knows that coaching could help them. But it doesn't. That person you know who could 'really benefit' from coaching has to get to the place where they really want to change before outside assistance can make a lasting difference. When they are ready to take responsibility for their lives, they may need a 12 Step Program and/or therapist, before coaching is really helpful.
Lazy Mixedupedness - The New Age client who thinks all they need to succeed is abundance thinking. This one is slippery, but the 'evolved' client sometimes is the most dysfunctional. They may take the Law of Attraction so literally, that they do nothing but think and feeeel what they want. Good luck with that.
Greedus Monsterus - The client who measures their success and your performance in terms of dollars, only. Many clients hire coaches to help them make more money. There are few coaches who can really help them with that. Why? Because many coaches don't really understand money. It's a stand-in for everything else the client wants or 'needs'. Few clients really want money for itself; they want freedom, they want to get over their self-doubt, they want to win, or they want something else. You can never get enough of what you don't really want. Don't coach greed or need unless you really understand it.
Elephantus Blindness - The client who has a gaping blind spot that's wrecking their life and refuses to look at it. I once had a client whose fiance, an entrepreneur who had lousy credit, refused to marry her unless she loaned him $50,000 to start a new business. First she refused, then she relented, because after all, 'he's a sweet man who really loves me'. This client had several blind spots that to me were as big as elephants, but if I broached those topics, she'd deflect my questions with replies such as, 'I don't know. You're the coach. I thought you'd tell me.' I told her I couldn't be her coach.
Parasiticus Dependantess - The client who needs you to do their work for them, because they're too 'sensitive', scared, unsure, etc. Sometimes going the extra mile for a client will inspire them to step up to a new level of greatness. But beware the client who 'needs' you to do what only they are responsible for. This client will eventually fail, but not until they've drained you dry.
Okay, maybe it's not fair to make fun of these coaching clients. After all, they're doing their best, just like everyone else. But a little humor will get you over the pain of firing a client who otherwise will devour you. In time, you'll spot these folks before you've given them your all.
So what are your monster coaching client stories?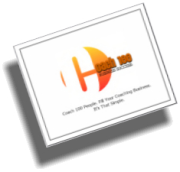 Try Coach 100 and learn to identify great coaching clients faster.