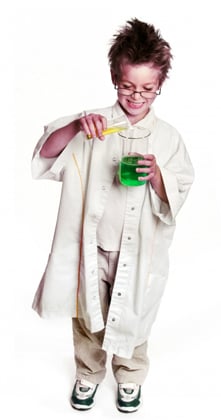 Coaches are advanced communicators. We're positive, spiritual, creative, and empathic. So what do we need science for?
Everything.

Professional coaching has changed dramatically over the 20 years of its existance. Early coaches and their clients were pioneers and early adopters. Those are very special people. They got an intuitive sense that coaching was "right" and they had the courage to dive in and act on their intuition.

But like every profession before it, coaching has grown up. This brings good news, and depending on your point of view, maybe some bad.
Here are five important reasons your coaching business needs science, now:


Coaching has gone mainstream and the Wild West is over - this means there are many more potential coaching clients, but what they want has changed. The days of dreaming up an awesome-sounding coaching program - without first testing to see if it actually works - are over.
Potential clients are skeptical of the hype and unproven claims of entrepreneurial coaches. Coaching is still unregulated, which makes the barrier of entry quite low compared to other professions, such as medicine, yet coaching fees are quite high. Unfortunately, this means there are more ineffective coaches than effective ones. Stories of clients who've been burned by bad coaches are everywhere. It is imperative that you distinguish yourself from "coaches" who don't know how to coach.
Potential clients are less likely to be attracted to New Age or Consciousness messages. Also known as the LOHAS market (Lifestyles Of Health and Sustainability), and sometimes derided as the "Unicorns and Rainbows Folks", these were the early adopters of coaching in days gone by. Yes, those movements are growing, but they're still a tiny segment of society. Their members often have limited disposable cash. In other words, they may want coaching, but can't always pay for it. If your ideal clients are yoga teachers, massage therapists, Reiki masters, vegetarians, organic farmers, etc.; you know what I'm talking about. However,

as the coaching profession penetrates deeply into the mainstream, we find huge numbers of different potential client who are interested in being happier and more successful and can afford to hire coaches - but they're looking for very different marketing messages than the LOHAS folks. There are simply too many life coaches today for them all to be tarketing LOHAS.

Today's potential coaching clients want evidence and proof that the service you offer can truly help them. You don't need to be a research scientist to gather evidence that this stuff works, but a little science goes a long way in today's competitive coaching market.
The science of coaching offers the evidence and proof you need to attract today's coaching clients. What worked ten years ago has changed. What will work in the next decade will be dramatically different.
No, you don't have to become something you're not in order to add science to your coaching. If you're like me and the big-picture, creative, communicative, empathic world of coaching comes naturally, (but the detailed, linear, siloed, objective world of science? Not so much), then becoming a researcher will never be for you.
Good. There are lots of researchers in the world. What we need now are more effective coaches.
That's why I created a series of science-based coaching courses that are designed for coaches, not scientists. They translate the research you need to know on what really helps people be, do, and have what they really want; and present it in easy-to-digest formats specifically for people who think like coaches. Now you can learn what you need to know rather quickly, without wading through mountains of information that doen't pertain to your coaching.
These science-based coaching courses are now woven together into our Certified Positive Psychology Coach Program, which gives you the info and tools you need to start coaching your clients with science, plus the data and credentials to communicate your authenticity as a positive psychology coach.
Apparently, the International Coach Federation (ICF) agrees with me that science is
the next big thing in coaching, because its next ICF Advance conference in May is called, The Science of Coaching.
It's a perfect fit for the Certified Positive Psychology Coach Program, so School of Coaching Mastery is sponsoring one of the free introductory webinars that will precede the conference. By the way, we're applying for ICF approval for the Certified Positive Psychology Coach Program, so coaches who complete it will automatically become ICF ACCs.
Then there's the Institute of Coaching, affiliated with Harvard. They're devoted to research into coaching and positive psychology. Science is where the most exciting developments are occurring in the coaching profession.
If you'd like to learn more about Why Your Coaching Business Must Have Science, watch the webinar video by that name. It's free.
Want to know more about becoming a Certified Positive Psychology Coach? Click the button below and fill out the form to get the latest on this brand-new coach-training program: