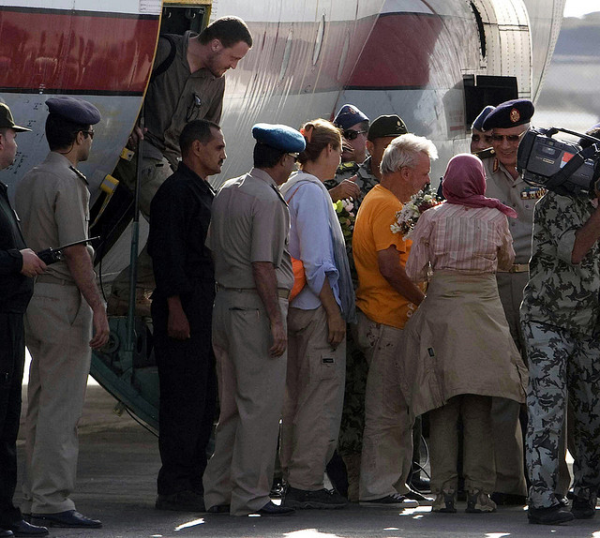 Hostages being freed, Egypt, 2008. Photo by Mohammed Ghafari, Flickr, Creative Commons.
Life coaching is confused with a number of other professions. Hostage negotiation isn't one of them. So it might shock you to know that effective hostage negotiation shares quite a lot with effective life coaching.
Why? Both coaching and negotiation are basically conversations between human beings. The same 'magic' communication skills work well, whether between coach and client, salesman and shopper, parent and teenager, or negotiator and terrorist. In fact, these conversations are really not all that different from each other.
I discovered this yesterday while reading Wired magazine collumnist,
Eric Barker's interview with former top FBI hostage negotiator, Chris Voss,
who now teaches business negotiation at places like Harvard. In it, Chris shares tips and secrets on how to negotiate successfully, stop thinking like a schizophrenic, and why you should never settle for a one-boob breast augmentation.
Here are six ways Hostage Negotiation is like Life Coaching:
You can't ignore emotions. Chris says one of the biggest mistakes many negotiators make is that they try to ignore emotion and just be rational. The problem with that, as he says is, "There's a lot of scientific evidence now that demonstrates that without emotions you actually can't make a decision, because you make your decisions based on what you care about." In coaching, what you care about is called your 'Values'. Great coaches always clarify their client's values, otherwise their clients can't make good choices. I tell my coaching students that emotions always have an underlying logic. Once you understand the meaning behind the emotion, it always makes sense and moving forward gets easier.
You have to really listen. Most people don't really listen to each other; they just formulate their responses while the other person is talking. The result is that they don't really hear everything the other person is saying. Worse, it means most of us go through life without anyone ever really hearing us. That's a soul-slaughtering experience. No wonder some people go postal. Chris says negotiating with a schizophrenic is especially challenging, because a schizophrenic is often distracted by voices in their head. He says when you listen to your own voice in your head instead of to the other person, you're behaving like a schizophrenic who can't really hear what's going on. I couldn't say it better.
Feed back what you're hearing. Chris says, "The idea is to really listen to what the other side is saying and feed it back to them. It's kind of a discovery process for both sides. First of all, you're trying to discover what's important to them, and secondly, you're trying to help them hear what they're saying to find out if what they are saying makes sense to them." In coaching, this is called mirroring, or you can double-duty it and also acknowledge them as you mirror. Both of you will get more clarity. The other person will know you're really listening, which helps make a stronger connection. The result is greater openness and willingness to work with you.
Keep clarifying. Chris suggests, "You can say, 'What are we trying to accomplish here?' Then, 'How is what you are asking for going to get you that?' Great coaching questions! Most people, terrorists and schizophrenics included, need help clarifying what they really want and how they're going to get it. That's what coaching's about. Apparently, that's an important part of hostage negotiation too.
Never compromize. According to Chris, compromize is a terrible thing. The metaphor he uses is the husband who wants his wife to get a boob job. She doesn't want to do it, so they compromize and she just gets one. In other words, nobody gets what they really want. Coaches exist to help people get what they really want. Most people are so used to compromizing that what they tell you they want is usually just what they think they should want or what they think they can get instead of what they actually want. Trust me, your clients can get what they don't want on their own. They don't need to pay you thousands of dollars to help them compromize.
Don't argue. If each side is presenting its arguments, neither is really listening (See #2). Instead of resolution, you get more conflict. If you want the other side to hear you, let them get their

whole

story out. Otherwise, that story will get in the way of their ability to hear you. It'll get in the way of getting what they want, too.
Obviously, there are key distinctions between life coaching and hostage negotiation. For starters, a negotiator has an agenda to resolve a horrible situation without anyone getting hurt or killed. In coaching, our only agenda is to help the client think and act more resourcefully so they can get what they really want. The negotiator may only be trying to buy time until the SWAT team can either rescue the hostages or arrest the terrorist. Big difference.
But people are people. They want you to hear what matters to them, even if they can't articulate that, yet. Maybe if more people were coached, fewer people would go ballistic.
Learn how to coach people on what really matters to them (and get a coaching certificate):