[UPDATE: The Coaching Certificate Exam is no longer available with the Free Coach Training Program. Please see Just In Time coach training, if you would like to take the exam.]
Recently a new member of School of Coaching Mastery's Ultimate Coach Training Program membership asked what the difference is between her new program and our Free Coach Training program.
It's an understandable question, because it's hard to convey with a website what you experience when you join the Ultimate Coach Training program, but the difference is huge. And each month that you remain in the program, we add more value, features and benefits, so it just keeps getting better...
So I created a very simple table to show some of the most obvious difference in the features of these two programs. To keep it simple, I just compared the first month of the Ultimate Coach Training Program. See below...
It's probably not the features that matter to you, though. It's what the features do for you, like:
Become a professional life or business coach faster
Get higher-paying clients sooner
Organize your new business with less stress and confusion
Avoid flunking certification tests
Enjoy the camaraderie of like-minded coaches, while you experience this huge personal and professional transformation
Become a master coach
Get the life and business you really want
I could go on. But here's the table that compares just the first month of our Ultimate Coach Training Program Membership with the Free Coach Training program. With 60 hours of training for just $377, you can't beat the value anywhere: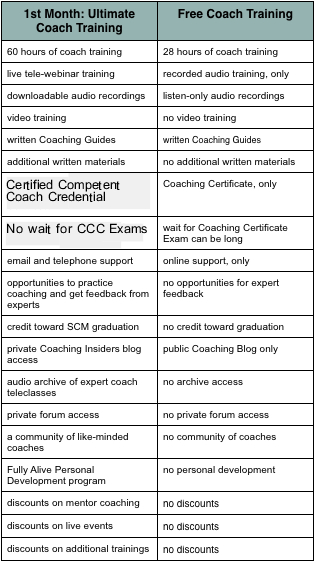 Which coach training program is right for you? Answer the following questions and click the links below: