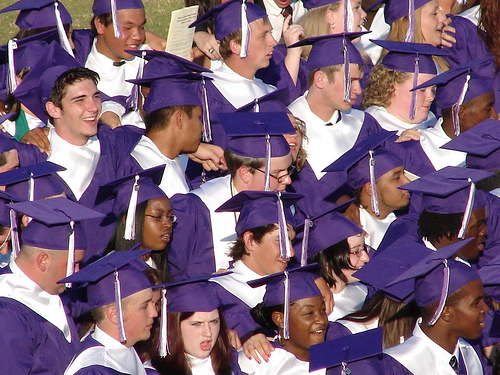 Can new college grads find work this year, or should they just go home and live with Mom & Dad?
With the unemployment rate still hovering near 10%, new college graduates are having an awful time finding jobs this year. Transitioning from college to adult life is tough enough even when the economy is good. There's getting the job, learning to budget, pay the school loans and still buy the stuff you need, all while navigating your social and love life. That's overwhelming, right there.
But this year? For millions it's easier to just delay the whole process and move back in with the parents. Or maybe apply for graduate school and hope things get better in two more years.
Things are so bad, one frustrated NYC mother started her own website called, Get My Kid Off My Couch, with links to resume, blog, social sites, etc., showing off her daughter's skills, because both of them are desperate to get on with their lives and all it will take is just one little job.
Well here's an alternative. If your son or daughter has good communication skills (Check their cell phone bill, if you're not sure), they may want to upgrade what they already have with coaching skills for a couple of reasons.
1. There are still jobs for people who can coach. I just did a search on Indeed.com for 'coach, coaching or coaches' (and I filtered OUT sports references like tennis, lacrosse, cheer, football, baseball, softball, basketball, etc., etc.). I got back nearly 75,000 available jobs that require coaching skills. Not bad.
2. Coaching can be a lucrative business. Some college grads are skipping the job treadmill all together and just starting their own businesses. Few businesses are as inexpensive to start up as coaching. There's no inventory, no store front, no staff needed, just a computer and a phone. And good coaching skills.
And by the way, that major transition that students go through from high school to college to first job and beyond? That's a huge coaching niche. Who better to coach young people through these major life stages a than those who have just navigated all that, themselves?
However, a very young coach needs coach training to be credible. Happily, new college grads are already good at being students and coach training costs a lot less than graduate school. And it trains them in something they can actually do, too.