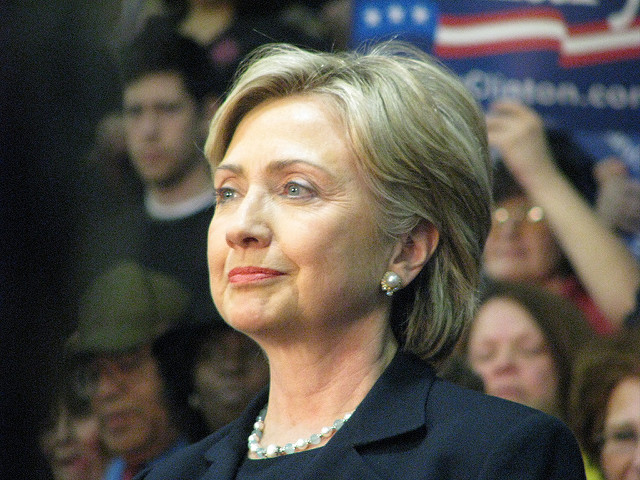 Here's the third and final installment in my three-part exploration of 2016 Presidential candidates and their Value Systems. As one reader on Facebook commented, this approach makes sense of a really messy topic. Each installment focuses on a different candidate.
Part 1 introduces Spiral Dynamics integral Values System, which is a theory used by coaches to understand their clients better, and it is mostly about Donald Trump and his supporters. Part 2 took a detour to look at the predominant Values System expressed by the Bernie Sanders campaign and today's post, Part 3, views Hillary Clinton and her supporters via their Values Systems. If you're brand-new to Spiral Dynamics integral, please go back and read Part 1, because it'll introduce you to the basics. Otherwise, this post will sounds like nothing but gobbledygook.
As Part 1 mentioned, the candidates' own Values Systems may differ from their supporters', because the candidates hone their messages to the voting blocks they hope to attract. It's important to note, though, that any candidate who makes it this far in the United States Presidential election is very strong on Orange, the Values System that is associated with rationality and productivity, because it tends to have an emphasis on winning and its values are consistent with those of democracy. Also, our media tends to be dominated by Orange values, so the information we get about the election is almost always filtered through Orange, which can't make sense of much of what's happening this year.
What we've found, so far, is that Donald Trump is attracting voters from the lower end of the Spiral, (Purple, Red, and Blue), while Sanders is hyper-focused on classic Green issues. And if you're wondering why Beige hasn't been mentioned, it's because we don't usually see Beige thinking in healthy adults, under most conditions, so Beige doesn't comprise a voting block.
And before you Sanders supporters start to feel superior because Green is higher up the Spiral than most of the other Values Systems, I want to note that the Spiral is about Values, not I.Q. or sophistication. Thinking at the lower end of the Spiral doesn't make someone stupid; it just means their thinking is working for them, so they haven't been forced by circumstances to change it. For example: If you are a bully and it's working for you, you may live at Red your entire life, but you could be a very smart, very sophisticated bully.
Besides, there are levels beyond Green.
So where does Hillary Clinton live? That's a challenging question that points to why some people don't like her. She shows signs of nearly all the Values Systems. That's complicated and confusing. Voters prefer simple and clear.
However, that complexity points to the Yellow and Turquoise Values Systems, which are the first and second systems that become aware of, and see value in, all the systems, depending on circumstances. This allows tremendous flexibility to take approaches that works best in any situation. There are, so far, relatively few people who've evolved to these levels, which care about many of the same things people at lower levels care about, but in new ways. The general population is moving up the Spiral, though, rather than down, so numbers are growing, and there are notable politicians who've already taken this approach.
Among them are Bill Clinton, Al Gore, Barack Obama, and Tony Blair. Sometimes called, the "Third Way", this approach seeks to integrate the best of conservative and liberal approaches. The results tend to focus on cooperation vs. competition, solutions vs. problems, positivity vs. negativity, and even forgiveness vs. blame.
The Third Way is a great idea, but it does trigger resistance from people who don't resonate with it, which so far is a lot of people. Obama came into office wanting to compromise with Republicans to get things done, but instead met resistance from Tea Party Conservatives who shut down the government, rather than talk to him.
No doubt, some of that resistance was based in racism, but some may have been for another reason: people intuitively understand others who agree with their Values Systems and even intuit the thinking of those who operate at lower Values Systems, but when they encounter someone who operates at a higher level, it feels false, foreign, and untrustworthy.
They can't get a gut or intuitive feel for them and that's scary. Democrats and Republicans working together? Government and business? There must be backroom payoffs! Something fishy is going on! These people are crooked!
I'm not claiming Third Way politicians are automatically more honest than other politicians, but I am saying that we can't assume they are corrupt just because what they're doing is different.
Is Hillary Clinton a Third Way politician? Yes, she appears to be. Her politics are generally liberal, but she seems to take the approach that she can destroy her enemies best by making them her friends (a point of view championed by Abraham Lincoln, who may have been a forerunner of Third Way politicians), rather than making friends into enemies, as Sanders does, or simply making everyone an enemy who isn't a supporter, as is Trump's approach.
But there's something else. Clinton, being female, has a tough time running for what has traditionally been a masculine job. She seems to resonate best with the values most obviously associated with female concerns, for instance, Purple family and children. She picks that concern up again and again at the "feminine" levels of Blue, Green, and Turquoise. Each level approaches it a bit differently. But these "soft" concerns don't play well next to grand visions of wiping out terrorism, or of retooling the entire economy.
Also Clinton is not a great speech maker. She doesn't attract enormous crowds. If she talks too loudly, people complain she's screaming. If she talks too quietly, they say she's "low energy". She is pioneering how a woman can run for president, because no other woman has made it this far.
What do they say about pioneers? That you can always spot them, because they're the ones with the arrows in their backs.
There's another thing about Hillary's reputation for being dishonest. If you recall the Jimmy Stewart film classic, Mr. Smith Goes to Washington, the main character, perhaps the only honest man in Washington, was vilified for profiteering and worse, by the corrupt old guard who didn't want him and his idealistic plans getting in the way of their graft. My point is, you can't believe what politicians and their surrogates say about each other. Whenever I've taken the time to look up whether Hillary has done something dishonest, I've been pleasantly surprised.
But she has some cards on her side. Yellow and Turquoise are disinterested in rallies and protests, so you won't find them there. They are too busy in their offices, labs, and workshops; innovating solutions and creating the future. But they do pay attention and they vote. This is one reason Clinton fails to attract the crowds of her rivals, but still gets millions more votes.
Crowds don't elect presidents. Voters and delegates do.
Plus, with Trump running as the ultimate alpha male, he has handed Hillary the opportunity to run like a woman, as a woman. She's at her best in small groups talking to women and children. Women, people of color, and those at the highest levels of the Spiral are her base. When Sanders drops out, his liberal supporters will mostly go to Clinton. His populist supporters will mostly go to Trump.
May the best man or woman win.
You're welcome to comment on this post, below, but keep it respectful. Comments are moderated and trolls and spammers won't be tolerated.
Interested in understanding coaching clients and their values better? You may want to learn about positive psychology coaching. Our courses are listed here: