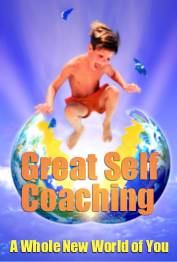 What is the Great Self?
That's a great question...If you're a veteran of personal development programs or of some forms of spirituality, then you may have been introduced to the distinction of the Higher Self vs. the Ego. The terminology may have been different, but the basic idea is that the Higher Self is good (ex.: loving, spiritual, altruistic, etc.), while the Ego is bad (ex.: selfish, petty, destructive, etc.) Read A New Earth for one of the best descriptions of this dualistic view of human beings.
The Great Self concept takes this idea a step further from either/or to both/AND. The ego is an essential operating system for any healthy human being. It's there to protect you and look out for your interests. It only becomes a problem when our interests conflict with the interests of others. This tends to happen, because we are either unaware of the Higher Self or are rejecting the Ego.
Eliminating the Ego would be like removing the Windows, Mac, or Chrome operating system from your computer and expecting it to still work. In Great Self Coaching, we integrate the ego and all of its 'apps' with the Higher Self, which is enormously powerful. This is a HUGE upgrade, like going from 8 Gigs to 160. And it's a fun process!
How did Great Self Coaching come about?
Another awesome question. Great Self coaching is the culmination of decades of professional experience, helping people reach their dreams. I've synthesized and developed the work of hundreds of master teachers from fields like coaching, psychology, neuroscience, spirituality, personal development and more, such as Thomas Leonard, the Founder of the Coaching Profession, and Zen Master, Genpo Roshi, whose Big Mind process added the concepts of the Controller, Protector and Analyzer as gateways to the Great Self.
Great Self Coaching has been years in the making and you're invited to taste it for free in one of 3 group coaching sessions coming up:
Image courtesy of Elan Sun Star.