Answer: One Thousand Coaches Are All Registered for the Same Webinar Tonight, March 18th, 9 PM ET/6 PM PT.
Curious? Register below...


March 18 (6pm PST) LIVE Webinar Tonight.
"Discover Your Compass" Opportunity Meeting with Compass CEO, Kim Fulcher!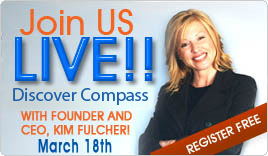 There has never been a better time to be a part of Compass

Come and learn how Compass is changing the world
one woman at a time through a ground floor business opportunity.

Compass is the first company to offer powerful and affordable coaching programs and services through a network of independent representatives.

Compass combines 4 of the fastest growing, recession proof global trends:
Social Networking, Network Marketing,
Personal Wellness/Self Improvement, and Professional Coaching

Don't miss your chance to help change the world by
building your own home-based business with Compass.