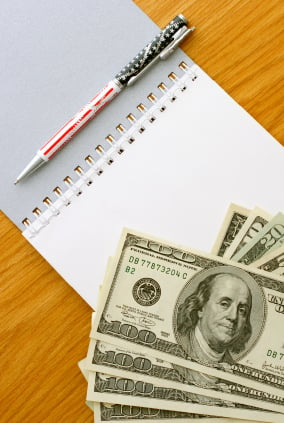 Not long ago, one of my life coach students, who was transitioning from a regular job to owning her own life coach business, commented in class that she was going to miss getting a steady paycheck.
I'll bet! What life coach wouldn't miss a guaranteed salary?
Well here's a secret about life coach salary
(or executive or business coach salary): Even if you work for yourself, you need a steady paycheck.
No, I didn't say you need to get a steady job.
Your coaching business needs to pay you
a steady salary. You really can have the best of both worlds!
This is the first lesson in business finance.
But unfortunately for me, I missed this lesson for several years. The result? a constant feast or famine condition that wreaked havoc in my checking account and my life.
This chaos created inordinate stress about money and made it nearly impossible for me to invest, save or even have fun with my money, because I was constantly uncertain how much would be coming in.
The answer?
I started paying myself a salary. Stress canceled. Uncertainty eliminated. Balancing my checkbook? No problem!
Actually, the benefits of paying yourself a life coach salary are so numerous that I'm not going to even try to cover them all in this blog post. But before you take action, check with your accountant or attorney.
In my case, getting started with a life coach salary was as simple as transferring a set amount of money every Friday from my business account to my personal checking account. But even if you choose a formal payroll, which has some benefits, it can be simple and easy.
How can you start paying yourself a paycheck right away?
Take a look at how much money your business brought in the last 3 to 6 months. Average it and subtract your business expenses. That's your potential salary.
Then take a look at how much you think you need to live on
(don't forget to include estimated tax payments and savings of at least 10%). If what you 'need' is more than what your business can afford to pay you, start simplifying your life or get more creative. (For me, it's a fun game to ask, 'How could I get this for free or nearly free?' For instance, I discovered that it's much more fun and rewarding to check out movies from my library than it is to pay a bloated cable fee.) But if you really can't pay yourself enough, there's no shame in getting a part-time job, until you can.
The funny thing is, although what I initially paid myself seemed like too little, I nearly always had extra money left over at the end of the month - in addition to the money I intentionally saved.
Does this seem too limiting, or at least, not exciting enough?
Well if you love excitement, go for the chaos. And if you're really crazy (been there), try enforcing 'wealth consciousness' on yourself while you're struggling to pay your bills.
Me?
I find it much more exciting (in a good way) now that I'm free to plan my financial life based on some solid projections.
As for wealth consciousness, it's fun watching my savings accounts grow.
And that small salary that I started out with?