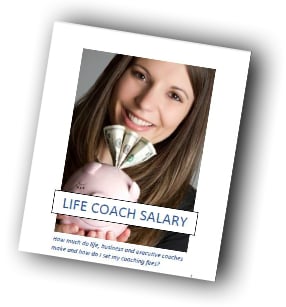 Have you ever wondered about life coach salary rates or how much money executive or business coaches make? Or are you setting up a coaching business and wonder how to set your own coaching fees? Or are you wondering if you should become a coach? If you said YES to any of these then you need to read the new information-packed FREE eBook: Life Coach Salary.
We took several of our most popular coaching blog posts and added the 'How to Set Your Coaching Fees' worksheet, previously only available to SCM students. Then we combined them into an information-rich free ebook. It's a quick read that will help you understand how much professional coaches make, how coaches set up their businesses for profitability and how to set your coaching fees with confidence.
Let's face it, confusion is the enemy of success. This free eBook can wipe out your confusion about coaching costs and help you take the next step toward becoming a successful life, business or executive coach.
You'll learn:
Worldwide trends in executive, business and life coaching
How much do executive, business and life coaches make?
How many clients does the average business, executive or life coach have?
Why every coach needs a steady paycheck
Why coaching costs so much
Why setting your fees too low can backfire for you and your clients
How to set your coaching fees so your clients get what they want and your coaching business is successful
If you want a full coaching practice, you can't afford not to read the FREE Life Coach Salary eBook:
Tweet