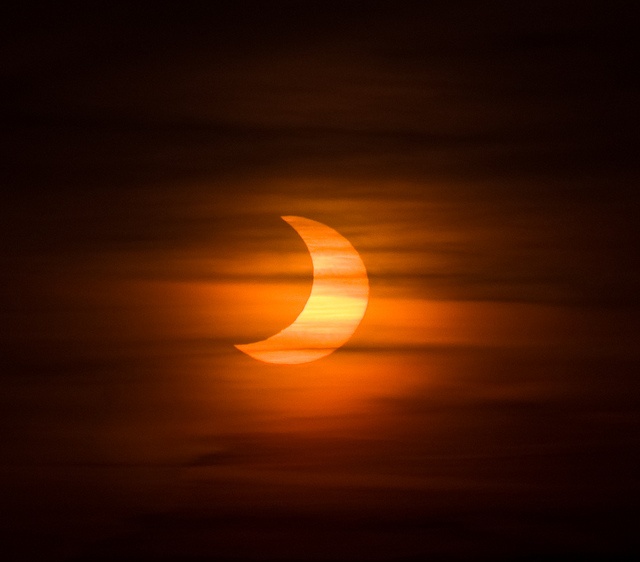 If you live in North America, you know today is the day of the coast-to-coast solar eclipse. And if you're in the path of the totality, that's pretty exciting. Since ancient times, the eclipse of the sun has been seen as harbinger of change. Whether that be turmoil, doom and gloom, or lasting peace, the eclipse is when big things were supposed to happen. Today, we know what to expect from above AND we can CHOOSE what to change down below. How?
Positive psychology offers clues on how the total solar eclipse can help transform us. Where ever you are, follow these coaching tips to use today's eclipse of the sun to begin all over again.
3 Ways the Solar Eclipse Can Spark Your Transformation:
1. AWE. According to positive psychology researcher, Dacher Keltner, the experience of awe changes us, immediately. Awe occurs when we're confronted by something incomprehensibly huge, something incredibly beautiful, or something terrifying. A total solar eclipse can be all three. It's the direct experience of three massive celestial bodies (the ones that matter most to life on Earth) behaving bizarrely, by blotting out the Sun's rays, without which, all life on Earth will die.
No biggy, right? You know the Sun's coming back in a minute. But that won't stop your fight-or-flight response from kicking in during totality. The hair on the back of your neck may stand up as you experience what your intuition says is all wrong. Your brain's error detection system will tell you something BIG is out of order, and if you're within hearing distance, the howling of dogs, and other disturbed Earthlings, will confirm your worst fears. But at the same time, it's so BEAUTIFUL: stars come out; planets may be visible, you might even notice a 360 degree "sunset" on the horizon. People who travel across the world to see eclipses, called "shadow chasers", say the total eclipse of the sun is the most awe-inspiring experience a human being can have.
How does awe change us? According to research, people who've just experienced awe behave differently. They are kinder and more generous to strangers, and feel closer to loved ones, perhaps because they realize how small each of us is and that we're all in this thing called, life, together. That's nice for others, but may matter much, much more to you: because when you're kinder and more generous, without expecting anything in return, you start enjoying more happiness and good things come seem to come to you more easily. A minute or two of creepy darkness, and awe-inspiring celestial alignment, may well be worth the extra happiness and success you can enjoy for the rest of your life.
Even though kindness may seem commonplace (if you've been fortunate), it's one of the most powerfully transformative tools for creating greater joy, wellbeing, success, and good health for yourself, and since happiness is contagious, you'll be helping others be happier, just by your presence.
Coaching Tip: Later in the day, when you're alone, spend up to 30 seconds recreating the emotions you experienced during and after the eclipse. Use all your senses as you remember the details of your experience. Called "savoring", this technique helps strengthen the neural connections that make transformation sustainable. Do this everyday for a month to maximize the effect and intentionally increase your kindness and generosity to others. Your life will transform.
2. PEAK EXPERIENCE: Similar to awe, the peak experience is intense and transformative. Some people try to induce it via extreme sports, because wildly dangerous experiences help them feel fully alive. But peak experiences are helpful another way: They shake up your sense of "me-ness" and push you out of your usual conditioned responses, if only for a few moments. That's scary, but also exhilarating. In the moments that follow, people often solve problems that have vexed them and come up with innovative ideas. If you're a business owner, artist, or anyone who needs creative solutions to life, peak experiences are everything. You can induce one by jumping out of an airplane without a parachute, but fortunately, the total eclipse provides us with a similarly mind-bending, awe-inspiring, frighteningly overwhelming event without actually threatening our lives.
Coaching Tip: Got a big problem or need a huge idea for your business? Right after the total eclipse may be the perfect time for you to discover the solutions, while your brain is temporarily scrambled from that super weird experience.
Ask yourself these questions immediately after the totality: What needs to change from now on? What's one way you'll be different from this moment forward? What's the first step you'll take, to make that real, within the next 24 hours? Or sit down as soon as you can, with pen and paper, and brainstorm new ideas. Get crazy (that'll be easier than usual). You may just discover the answers you need. Don't forget to act on them to make them real!
3. GRATITUDE: After two minutes of irrational fear, you'll be GLAD when the sun comes back out. Notice how everyone laughs and giggles with relief. Thank the Universe that this was "just a test". The Sun's not really going away; it'll be back tomorrow, as usual.
Coaching Tip: Just after the eclipse, chat with the folks around you about how thankful you are for Nature and that you just got to experience this relatively rare event. Or when you're alone, list 3-10 things you appreciate most about Nature and for each one, spend 10 seconds savoring your gratitude. It's important to really feel it. You don't have to do this every day, but it's a good idea to spend some time once per week, or so, thinking and feeling what you're grateful for on a deep, heartfelt level.
And if you need help, get out into Nature regularly, because it's incredible even on "normal" days. In fact, psychologists theorize that the current rise in depression is largely caused by our addiction to screens and our artificial lifestyles. We evolved to experience Nature everyday and we literally need it. Perhaps the greatest boon from the eclipse is that it gets millions of us outside.
Gratitude, like kindness, is one of the most potent ingredients in a flourishing life. You can experience it any time you want. When you do, happiness becomes your default, while anger, sadness, blame, and judgment all evaporate. Practice gratitude on a heartfelt level whenever you can and your life will be more peaceful and serene. And people who appreciate their lives always seem to get more of what they appreciate!
So get ready for a life-altering event. And make the intention to transform your life, and perhaps the lives of others, using the eclipse and a few easy tools.
And if living a life of joy and transformation is what you're built for, why not become a positive psychology coach? The Certified Positive Psychology Coach Program gives you tools to upgrade your life and business and the power to help others do the same. Plus, starting this Fall, The Fully Alive with Positive Psychology Program is included, at no extra charge. You'll have tools like the ones in this post to help your clients flourish. And if you join by the end of this month, you can save on the Certified Positive Psychology Coach Program and still get the Fully Alive program in the Fall. Win-win-win.
Go here for information about the Certified Positive Psychology Coach Program: