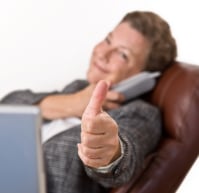 I've written a lot lately about how to build a successful coaching business without complex marketing systems or pricing structures.
What works best for coaches is to build business relationships one conversation at a time. You need to build business relationships the same way you build personal ones: with sincerity and no 'hidden' agendas.
The most important conversation for the coach and client then, is the one that cements their professional relationship.
I call it the complimentary coaching session.
If you're going to have a rockin' business built on coaching instead other activities, you need to master the complimentary coaching session. That's why we devote an entire 4-week module to successful complimentary coaching sessions in our
Coach 100 Program
.
Here are a few high points on how to give successful complimentary coaching sessions:
Focus on the client, not on yourself. Your nerves and even your desire to do a good job are all about you. Coaching is all about them.
Focus on expanding the client's possibilities instead of solving the client's problems. Every great coach knows that problem solving is the least of your gifts.
Focus on the relationship and the potential relationship. Help the client see what's possible with your coaching.
Give the client an experience. Of themselves, the value of the coaching relationship and the potential outcomes of working with you.
Notice all the information that your client and your intuition are sending you. This is how you recognize a good client fit.
If you and the client are a great fit, invite them to work with you.
Focus. Give. Notice. Invite.
Those are the basic elements of successful complimentary coaching sessions. Of course there are many more details and practice is the key to mastering this process.
And master it, you must. Without the ability to cement client relationships, you can't be a professional coach-preneur. With this ability mastered, you're helping others, co-creating a whole new world and making a great living doing what you love.
Have you mastered complimentary coaching sessions, yet?
The 4-week module on how to give successful complimentary coaching sessions that end with paying clients starts in one week. As a reader of this blog, we're giving you a coupon code today worth 45% off the usual tuition for this module, just to say, 'thanks for reading'. There are a few seats left.
Hear the demos. Ask questions until it's really clear. Get lots of practice until you've mastered this key skill and start getting paying clients with less time and effort. That's what Coach 100 is all about.