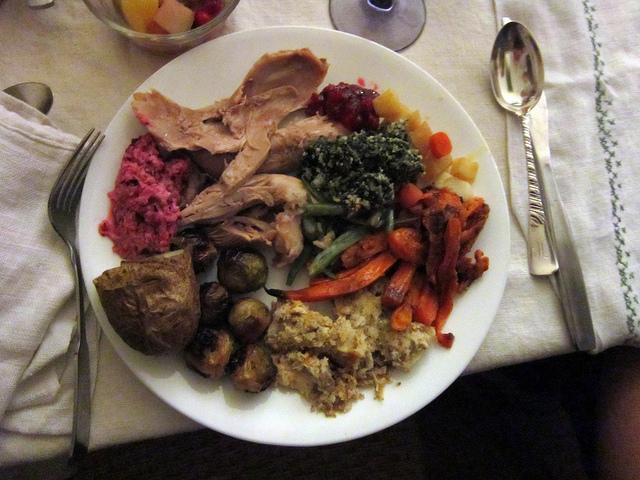 Article by Julia Stewart, MCC
I've often said that I wish Thanksgiving was a little more about gratitude and a little less about food. Then again, the food is pretty awesome...
So I'm definitely all for keeping the food! But...
Here's a way to add gratitude to a Thanksgiving feast that's both meaningful and memorable. And according to positive pychology research, this exercise will help you feel immediately happier and...you'll continue to feel happier even six months from now. That's something to be thankful for!
I'm talking about the Gratitude Visit, which evolved out of Martin Seligman's Penn State course on positive psychology.
The holiday season is the perfect time to do a positive psychology visit, because so many of us are traveling anyway. I dare you to add it too your Thanksgiving feast. You'll be glad you did!
Here's how:
Think of someone who has helped you in some life-changing way, but who you have never sufficiently thanked.
Then sit down with a pen and paper, or sit at your computer, and write out specifically what that person did for you, the impact it had on your life and how thankful you are.
Then travel to that person's home, or invite them to yours, but don't tell them about the gratitude visit in advance. An email or telephone call is not enough; you must do this in person.
When you are together, whether alone or among others, take out the gratitude story that you previously wrote and read it aloud to them, making frequent eye contact as you read. Then give the story to them to keep.
That's it! Imagine the emotional impact such a strong acknowledgment will have on the person you're thanking. Interestingly, positive psychologists tell us that the impact on the person who does the thanking is most dramatic.
What more beautiful custom to add to your Thanksgiving tradition?
This exercise was taken from my course titled, Introduction to Positive Psychology for Coaches. Click the button below to learn more and join the next one.
What's your favorite way to express gratitude?
Image by Moonlightbulb