New Coach Course: Coaching Groundwork
Simple but powerful coaching skills training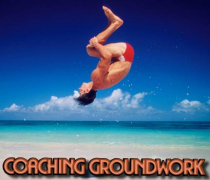 Build Coaching Skills Here.
Curious about coaching, but not quite ready to join a coaching school?

Want some basic coach training to get you started?

Would you like some simple coaching skills for your current job?

Are you ready to start using "power tools" at work?

Want to jump in quickly and start coaching?

Are you ready to get what you want in life?

Want to improve all your conversations and relationships?

Would you like to bring out the best in others?

Willing to "flip" you life and get something better?

Ready to give it a try?
Coaching Groundwork consists of 8 easy but powerful coaching skills that you can be using effectively in just a few weeks.
8 hours of training and practice

4-week and 8-week programs available

Simple but sophisticated coaching skills

The basics of building a coaching business

It's included in the Full Coach Training Program or Coach Launch Program

Or take Coaching Groundwork alone, for just $325
Click here to view the schedule and register for Coaching Groundwork
View our Privacy Policy here. Call 877-224-2780 to pay by phone or check.
More info about Coaching Groundwork:
This eight-hour module is the foundational course forthe Full Coach Training Program at the School of Coaching Mastery, or it can be taken as stand-alone training. Coaches may choose to take this program first and decide on the full training later. Each eClass will introduce you to one or two coaching skills, followed by a coaching demonstration and opportunities to practice right away. New to eClasses? Take the free Become a Coach eClass and experience it.
Here are our eight skills:
1. It's all about them
When you get out of their way, they can accomplish more.
2. Validate continuously
Research shows: A 4/1 ratio of Positive/Negative comments makes an amazing difference.
3. Be curious
Ask more than you tell.
4. Fine tune your antennae
Listen for and notice everything.
5. Prime the pump
Silence is an extraordinary tool.
6. Provide scaffolding
Build in systems that make accomplishment easier than failure.
7. Be Big
Greatness is contagious.
8. Have something to talk about
A little wisdom goes a long way.
These aren't "beginner" skills. They are a fast track to mastery!
Registration Credit Card Security:
As you register, please be aware that many banks and credit card issuers are taking increasingly strong measures against fraud. As a result, attempted purchases with your credit card, especially if done from outside your normal spending pattern or from outside the U.S., may be declined for your protection. For this reason, we recommend that you contact your bank or credit card issuer to alert them that you are making this purchase. The charge will show up on your statement under the name: Your Life Part 2/Julia Stewart Coaching and Training Programs.
Program Withdrawal and Refund Policy for registration by the Module: 100% refund within 24 hours of registration. 50% refund up to and including the first day of class. 0 refund after the first day of class.
Julia Stewart Coaching & Training Programs
P.O. Box 410026
St. Louis
MO 63141-0026
Phone: 877-224-2780 (TOLL FREE IN US,CA,PR,GU)
International callers please use Skype: jscoach1053