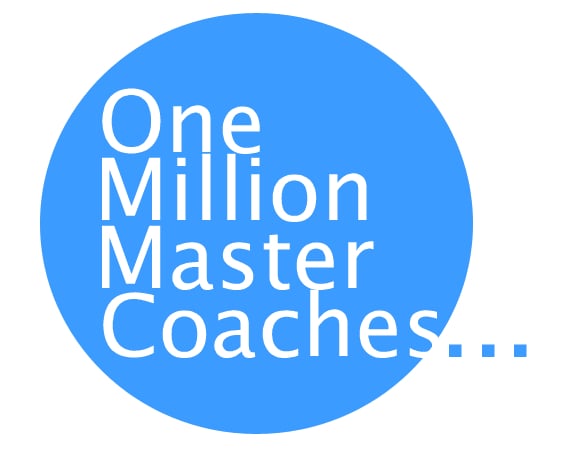 One Million Master Coaches Worldwide? It has a nice ring, doesn't it?
But what does One Million Master Coaches mean? Better said, what WILL it mean when there are one million master coaches in the world?
That's my question and it IS a question...
I'm hoping to pique your imagination and find out what you think one million master coaches will mean when it becomes a fact and not just a fantasy. Here's why...
The growth of professional life and business coaching has been so strong over the past 20 years, that it's really a matter of time, probably a few decades, before we reach one million coaches around the world.
But business and life coaching aren't just growing in numbers, the skill level of coaches is also skyrocketing. What was considered master coaching a decade ago is not outstanding any longer.
So by current standards, not only will we have a million coaches worldwide someday, but we will have a million master coaches worldwide. What difference will that make to the world, to coaching clients and to coaches, themselves?
One Million Master Coaches Worldwide...
will mean one coach for every 7,000 people on the planet


will mean coaching will saturate currently underserved areas, like South America and Africa

will mean the economics of coaching will change - but how?


will mean people everywhere will have access to personal empowerment, growth, achievement and fulfillment

will mean billions of people will operate far more effectively in their lives and businesses

will mean people will think at a level that can (easily?) solve many of today's most vexing problems

will mean a global transformation that is (almost) unimaginable

will be a game-changer for sure
What else will one million master coaches mean...to you? to the coaching industry? to the world? Add your comments below... No idea about one million master coaches worldwide could possibly be too wild...