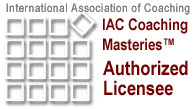 Guess what? The 'wild west' days of coaching are over.
Cliches about coaching that held true ten years ago, like that coaches really don't need to be certified, aren't holding up like they used to.
Our surveys show that about 70% of coaches want coach certification, not because they're insecure, but just because it feels right to them. And since other surveys find that untrained, uncertified coaches are less likely to succeed, that intuition is well founded.
But coaches are busy with their businesses, so actually getting certified gets shoved to the back burner. It's a Catch 22.
So we're giving you a one-time-only reason to pay close attention and get certified, right now: Starting November 16th, three certifiers (Natalie Tucker Miller, IAC-CC, Elizabeth Nofziger, IAC-CC, and Julia Stewart, IAC-CC)* are getting together for an eight hour course to teach you in detail what you need to pass certification. We've rolled it into three packages, so if you need a refresher course, first, you'll get that, and if you're ready to record your coaching sessions, you can get that too and save money.
2010 could be the year that you put those coveted letters after your name.
Click below to find out more and choose the package that fits your needs best. Or call 877-224-2780 to ask about further customization to help you get certified.
*We'll be working with the IAC Coaching MasteriesTM. We were the first coach training company in the world to be licensed to teach them and collectively, we've taught mentored or certified most of today's IAC Certified Coaches. In fact, Natalie and Elizabeth are current IAC Certifiers. But we are representing School of Coaching Mastery in this course, not the IAC, itself.
If you'd like to hear a recording that will give you a taste of the learning you'll get from this value-packed course, the three of us just did a call for the IAC North American Virtual Chapter and you'll immediately get a copy of that recording for joining, which is free.