Coaching with Neuroscience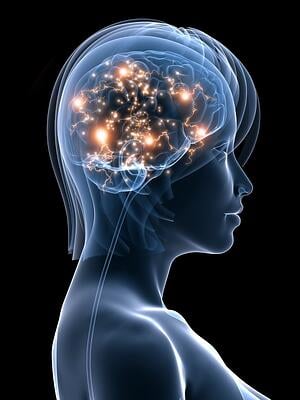 Introduction to Coaching with Neuroscience takes the complexity of brain-based coaching and simplifies it to the triggers and interventions that create the most dramatic results for your clients.
Leaders in the world of business, executive, and life coaching, often say the science most closely related to coaching is neuroscience, because it explains so much about human behavior, habits, and the achievement of goals.
Plus, the science behind coaching legitimizes coaching to skeptics, who see business, executive, and life coaching as an expensive luxury with no real proof to back it up. Actually, the science behind coaching is quite clear-cut and convincing. Particularly the neuroscience behind coaching, because it objectively measures physical things like neurons, neurochemicals, and electrical impulses, rather than intangibles, like thoughts, behaviors, and feelings, which are open to interpretation.
The problem is that neuroscience is incredibly complex. In fact, the human brain is the most complex structure known to science. How do you take the wealth of new information about the brain and apply it to your coaching simply, directly, and effectively for greater client results?
Introduction to Neuroscience for Coaching will help you understand: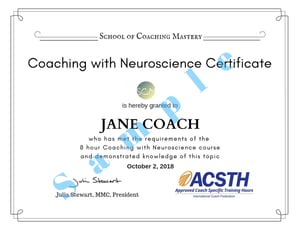 The most important aspects of your fantastic brain and how it interacts with your body, with other living beings, and with the environment.
Why neuroscientists no longer talk about right-brained and left-brained people.
What the new science of neuroplasticity has discovered about personal transformation and how to apply it for your clients.
How the triune nature of the brain explains human behavior in ways that empower us.
Emergent qualities of the brain.
Why and how habits can be broken or upgraded.
Why and how values, needs, and beliefs can exponentially transform lives.
Why and how positive thinking is powerful.
How to train the brain to be happier and healthier.
How to talk about the brain and behavior in ways that edify and inspire your clients.
How to talk about spirituality in ways even atheists can embrace.
Much more!
What you won't learn in this course:
You don't need to memorize detailed anatomy of the brain. You will learn some major structures that are important to coaching.
You won't go into complex biological issues, but rather, the discoveries that help us coach effectively.
You won't learn just the mechanics of brain function, but also the systemic, environmental, philosophical aspects of it.
You won't have to talk like a scientist, but you will learn to talk about the brain and neuroscience as the intelligent coach you are and in ways that are inspiring to your clients and are easy to put into practice.

Your live, interactive tele-webinar classes, which you can take from anywhere in the world, will introduce you to the research, theories, assessments and tools used in coaching with neuroscience.



Who is this Introduction to Coaching with Neuroscience for?


If you're a talented new coach who wants professional training, Introduction to Coaching with Neuroscience is for you
If you're a coach who has had coach-specific training and is ready to advance, this could be the next step for you
If you're a coach who prefers to learn in an interactive live webinar, with feedback and grades, but no time or money wasted on travel, this program is for you
If you're a coach who's interested in getting a Coaching with Neuroscience Certificate, this is your opportunity
If you are working toward in ICF certification, completion of this course will provide you with 8 ICF credit hours.
If you are currently certified by the ICF, you can earn 8 ICF CCEs by completing this course.
If you are a member of the IAC and need a course that will qualify for your Learning Agreement, we are an IAC Coaching Masteries(tm) Licensee and will corrolate the Masteries with the tools of this course
If you're a coach who is savvy about investing in your success, this is a fantastic opportunity for you to learn and SAVE
If you're a coach who sees the value in evolving yourself and your clients, sign up now, because seating is limited
If you're a member of the Certified Positive Psychology Coach Program, this course is part of your training program.
Finally, if you're a great coach, you're probably curious about the coaching with neuroscience and what it can do for your clients. This is your perfect opportunity to find out.
You're busy and money might be tight. So how can you afford to take this course?
Simple. You can't afford not to find the time and money, because it will create even more time and money for you.
How is Introduction to Coaching with Neuroscience delivered?
You'll take four, weekly 2-hour tele-webinars* led by SCM President, Julia Stewart, MMC
Each class is conversational, highly interactive, fast paced and fun
Each tele-webinar is accompanied by an in-depth written Coaching Guide (included at no extra charge) that provides you with details about successful coaching - both the skills and the business, or with exercises and feedback forms
You'll get opportunities to practice what you learn immediately, so you internalize it and can then use it with your coaching clients
Every tele-webinar is recorded, so you can view/listen again, as often as you want, 24/7
At the end of the last class, you'll take online test that covers what you just learned. Pass with a score of 80%, as well as 75% attendance and qualify for your Coaching with Neuroscience Certificate
If you don't pass the test on the first try, a test link will be emailed to you the following day and you can retake the test
Your Coaching with Neuroscience Certificate and website badge will be emailed to you
Enjoy the prestige of earning a certificate from School of Coaching Mastery
You'll have the option of being listed on the School of Coaching Mastery website, along with other recipients of the Coaching with Neuroscience Certificate
* Tele-webinars allow us to do everything in a virtual class that we can do with a live classroom, except shake hands or get stuck in traffic.
Now you can learn in your own style in this money-saving, time-saving, hassle-saving format. You do NOT have to incur long-distance charges or call an international telephone number! And you do not have to go online to participate. Distance learning has never been easier nor more economical.
How can you save money?
PLUS: Normally, there is an extra $100 charge to get your Coaching with Neuroscience Certificate, but we're currently waving that fee, so you save $100, if you register for the upcoming course!

Best of all, you'll have skills and tools that are proven to work, so you can create the life and business you really want! That make actually help you make more money...
How can you earn a Coaching with Neuroscience Certificate?
Just pass the 20-question multiple-choice online test on the coaching with neuroscience (You'll get 2 chances to pass the test), with a grade of 80% or higher...
Attend 75% of classes...
Pledge to uphold Best Practices for Professional Coaches.
And you will be awarded your Coaching with Neuroscience Certificate!
When is Introduction to Coaching with Neuroscience offered next?
Introduction to Coaching with Neuroscience is offered three-to-four times per year on different days of the week and different times to accommodate our international students.
View the dates and times for the next course to the right (if the next one is already scheduled).
You'll be able to qualify for your prestigious Coaching with Neuroscience Certificate within weeks!
At School of Coaching Mastery, we help you do great work, so you can have the life and business


you really want. All our programs come with our Value Back Guarantee. That means if we don't give you the value you expect, tell us as soon as possible and we'll make it right, period.
Take the next 8-hour advanced coach training course, Introduction to Coaching with Neuroscience, get your Certificate, and SAVE up to $100:


When you click the big blue button, you'll be taken to our course catalog. Scroll to the module/s that you want and click to join. You'll be taken to the payment page and once paid (via credit, debit or Paypal), you'll be in! Start accessing your learning materials right away ~