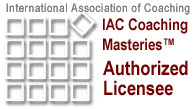 If you follow this blog, you know I had a beef last summer with the IAC over a number of changes that they made with the organization. It was looking less and less like the organization that I've enthusiastically supported since it was nothing more than a gleam in Thomas Leonard's eye, nearly ten years ago.
I concluded that IAC Licensing just didn't offer enough value for my school or my students, for us to associate with it exclusively. And there are so many other organizations doing great work, why align ourselves with just one?
Since there are pros and cons with each organization, I want to give our students clarity and a choice. I've been carefully reviewing many organizations that approve or accredit schools and I want to be sure that whatever we offer, will clearly give coaches an edge and not just overwhelm them with conflicting information.
In the meantime, we have an awesome track record helping coaches get certified by the IAC. 100% of our students pass the IAC Step 1 Online Exam. It's tough, but we've cracked the code.
The IAC says they only pass 25% of all applicants for Step 2 of IAC Certification. That's makes it a killer test. So far, 75% of our students are passing Step 2 on the first try. That means our coaching students have a three times greater chance of passing than others. I'm proud of that and I bet we can do even better.
So why not continue to make our IAC curriculum available? So we've signed up for a limited license to teach our IAC curriculum to not more than 20 coaches each year. Coaches have to 'declare' their intention to be certified in a given year by the IAC, if they want access to our IAC training.
Another thing that softened my attitude toward the IAC is that they are making changes to their licensing contracts. They will begin screening new schools that apply for licensing. Schools that don't have IAC-CC's on staff will only be licensed to train 'IAC Practitioners' and the new IAC website will make it clear which schools are qualified to train Certified Coaches.
The profession of coaching is evolving. Credible coaches and coaching organizations have to become even more credible just to distinguish themselves from the scammers. Expect more growing pains as coaching moves from the purely entrepreneurial side of the slate to the more professional side.
By the way, in honor of our renewed alliance with the IAC, we're adding considerably more to our Certified Coach Training Program, including our new Master Coach Training, plus Certification Bootcamp courses and Master What the Certifiers Are Looking For courses. I want to see 100% of our students who apply for IAC Certified, pass Step 2 and become Certified Coaches.
The bad news is that we will also be raising the CCTP tuition to $3995.00 at the end of February.

Go here to check out our IAC Certified Coach resources.