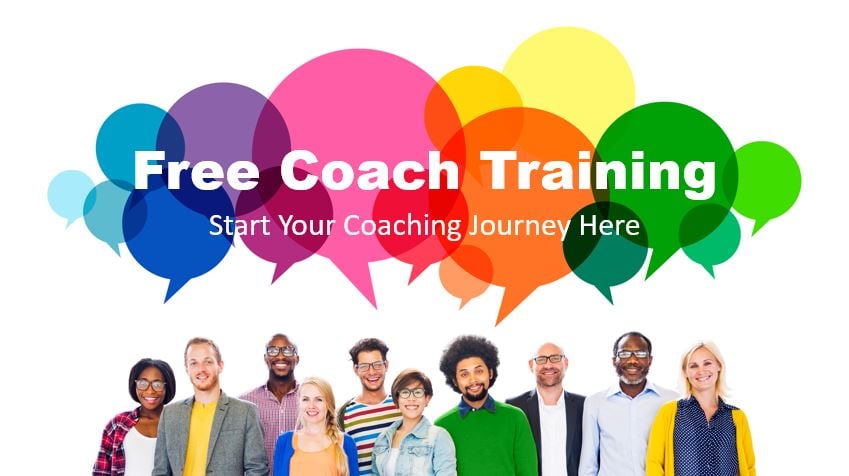 Several years ago, we launched a Free Coach Training program that quickly attracted hundreds of coaches.
Last month, we launched a new and improved version of Free Coach Training based on snippets from the new Certified Positive Psychology and Neuroscience Coach Program, so people who are thinking of joining can sample them, but everyone is welcome to take the program. The article that follows includes data and comments from participants of the previous version. If you would like to join the new Free Coach Training Program, click the button at the bottom of this blog post.
Read on...

We sent out a survey to members and here's what we learned.
Biggest concerns about joining: Would the quality be any good? Would they have time to do the work?
What they found: The greatest number said: They're glad they joined. Followed by: The quality is very good and they're inspired by coaching. They also found that the prerecorded format made it possible to go slow or totally immerse oneself in the training.
In their own words, the greatest benefits are:
greater belief in the value of coaching
I'm getting a better understanding of what coaching is and what it is not.
More awareness on how to ask questions
I've only had the time to listen to the first 3 classes and print out all the materials, so it's nice to know I can listen in when I do have the time.
I've found a lot of positive reinforcement that I'm effectively coaching people already.
Affirmation of how transferable my therapy skills are for coaching.
Connection to my previous learning about spirit coaching
New insights into coaching vs managing people
A holistic approach to coaching and personal development
I've decovered one of my stregths and one big improvement coaching will add to the way I serve my clients
The fact that coaching is so close to facilitation. I love facilitation.
I am gaining a greater sense of self.
I've gained clarity about the coaching profession and its purpose.
I am feeling more motivated and more confident to begin marketing myself.
I feel this adds so much depth to my coach training! This is the real deal. I am excited to learn more.
It's convinced me that what I thought may be true, really is. That coaching is my natural calling!
Allowing myself to fully submerge myself in this training however I want to has helped me to use the training as a jumping off point, not only for coach training and learning, but learning about myself.
I am brand new to coach training and it helped to hear the demonstrations
97% said they'd recommend this program to a friend.
What would they say?
Do it now! Don't delay.
It is the very first step, a great foundation to start with.
Try the first class and see what they think.
For anyone who is interested in becoming a coach, I'd say to take these free courses in order to get a better idea of what coaching is about and to learn some before investing in coaching school.
I've already referred several people. I've told them they NEED to check this out. It is not a scam. There is no "catch." It's about quality training from a servant's heart (Julia).
If you want to become a coach, take Julia's course.
Do it!
It's quality coach training for free. And it instantly adds value to the learner both professional and personal.
I would describe the resources available on-line, including classes, blogs, and study group. I would share how these resources are helping me with knowledge, understanding, and competency.
The content is good and helpful to anyone working with people in any capacity.
That if they are really interested in coaching, intend to incorporate coaching into their business, want to be a coach or just want some insight into themselves, this program is a must!
That even if they did not decide to pursue a coaching career, the training may give them ideas about how to evaluate their own concerns and maybe even seek out a coach for themselves.
It's wonderfull, You'll learn a lot and feel gently guided by Julia in a very safe environment. I can't believe this is for free, and she give a lor of great, quality coaching training. It's worth every second you devote to your training
This is a great, free, opportunity to learn about coaching and see if it is a career they would be interested in pursuing, or doing on the side along with their other work.
Just do it!
I would tell them that if they want to pursue coaching as a career choice, The SCM is the place to get your training.
I like how Julia leads discussions - she's obviously a masterful coach.
This program is the real deal! Not only is it helpful, but it's a great starting point for something greater. There's no way you can lose!
The training is free Why don't you give it a try.
Julia is a fantastic role model for what coaching should be. Her high standards and ethics are very apparent in the coursework she designed, and in her interaction with her students.
Take the time in between classes to integrate the lessons, questions, and work into your own life. Take some of the things that you hear to heart and apply them to your own life. Have a willingness to "discover" what you are learning.
The new Free Coach Training Program includes the option to attend live classes.

It's all free.