Yesterday, I had the pleasure of telling SCM coach/student, Brick Saunderson (Dr. Brick), that he's the first ever SCM Certified Mastery Coach!
I'm not sure which of us was more excited! Brick joined the SCM Certified Coach Training Program about a year ago. With decades of experience as Clinical Counselling-Hypnotherapist (RCCH) and Registered Counsellor on Vancouver Island, BA, Canada, Brick already had loads of skill working one-on-one with clients. In fact, he has his own school where he teaches other counsellors how to use hypnotherapy and is clearly is a long-time master in helping others create the lives they desire.
Regardless, Brick says becoming a certified coach is a huge milestone for him!
SCM, on the other hand, is a pretty new coaching school (founded, 2007) and the Certified Mastery Coach designation was only designed a couple of months ago, so we are super excited to have our first certified coach, especially since several more of our coach/students have demonstrated coaching mastery and will be following in Brick's footsteps and getting certified by us and/or the IAC very shortly.
And you can visit Brick Certified Mastery Coach page here.
Brick shared some gems about his journey with me in a 19 minute recorded interview right here. If you're wondering about going into coaching or becoming certified and you'd like to hear from someone (unedited) who's just been through the process, maybe this will be helpful to you: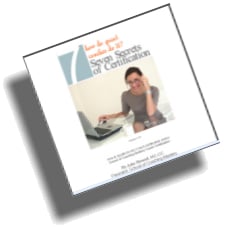 If you'd like more secrets about becoming a certified coach, download the free Seven Secrets of Certification eBook.