FREQUENTLY ASKED QUESTIONS
Click here to return to the Certified Positive Psychology Coach Page
Who should join the Certified Positive Psychology and Neuroscience Coach Program?
If you're passionate about positive psychology, neuroscience, and coaching, and you want to help people grow and enjoy better lives and careers, AND you want this to be your profession, the CPPC Program is for you. If you're a new coach, begin with Course 1: Introduction to Positive Psychology Coaching. It's also possible to take our courses individually for a custom program and earn a certificate of completion for each.

What's unique about the CPPC Program?
Our graduates become successful coaches. Why? The Certified Positive Psychology Coach Program is a coach training program designed by a coach for coaches that fully integrates positive psychology, neuroscience, and other evidence-based approaches with advanced coaching techniques. It is a professional training program for life, business, leadership, and executive coaches.
Does this program have a relationship with any other organizations?
Yes. Our instructors are International Association of Positive Psychology Coaches Approved Positive Psychology Coach Trainers, which means you can earn your IAPPC Certified Positive Psychology Coach credential by graduating from our program. In addition, once you are accepted to the program, we will cover your IAPPC membership and certification fees when you complete the SCM CPPC program. Join our program and get membership in this professional association designed by and for positive psychology coaches and get the coveted Certified Positive Psychology Coach® credential for free.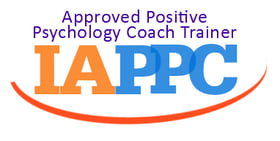 Will I be able to practice professional coaching when I complete this program?
Yes. You'll learn advanced coaching techniques in live classes that include ample demonstration and 52 hours of practice coaching and written feedback. You won't be a beginner coach when you graduate. You'll also be exposed to professional coaching best practices, marketing and sales strategies, and other tools for a successful coaching business. Graduates of the Certified Positive Psychology Coach Program recently responded to a survey asking if they were practicing coaching professionally. 100% responded that they are coaching professionally. 75% said professional coaching was the only type of work they do. This is a remarkable success rate. Before you join any school, ask how many of their graduates are full-time coaches.

I've read books on coaching, neuroscience, and positive psychology. Why do I need a certification?
Credentials matter in positive psychology and, according to a recent ICF survey of actual coaching clients, credentials matter to 84% of coaching clients. However, it's what you learn in the process of getting your CPPC that makes this program most valuable. In addition to advanced coaching skills, you'll be introduced to evidence-based coach approaches from fields like positive psychology, neuroplasticity, emotional intelligence, appreciative inquiry, etc.; that are fully integrated for your use in professional coaching. This program takes up-to-date scientific research and makes it accessible and applicable for new and experienced coaches and closes any knowledge or skill gaps that you might otherwise have.

Will I have personal access to my instructors?
Absolutely. Our live interactive classes are small, usually fewer than 10 students. You'll never get lost in a sea of hundreds of students who don't have direct access to their instructor. We're available throughout the week via email or via telephone by appointment. And you're always encouraged to share your questions and personal knowledge during live classes.
How long is the CPPC Program?
The Certified Positive Psychology Coach Program includes over 100 hours of live and recorded training, depending on which parts of the program you choose to take. It takes takes up to one year to complete, if you start as a beginner, but there is flexibility built into the curriculum, so you may be able to complete it more quickly. In case you need more time, you can have it. People who are new to coaching when they join the program average nine to twelve months to completion, while those who qualify for advanced standing average six to nine months to completion. Be careful of joining any program that promises you can become a professional coach in less than 6 months. It takes time to become a coach who is ready to succeed.

Do I have to take all the classes live?
No. Most of our classes can be taken via video recordings but classes with practice coaching need to be attended live. Most are available in both video and audio recordings. You're welcome to take the program via recordings, only, but you'll get much more out of it if you attend at least some of them live. However, their are some optional bonus classes that don't need to be taken live. These include the Coach 100 Business Success classes and bonus Q&A classes.

Will the live class hours work with my schedule?

Yes. You do not need to quit your job to take this program. Allow a minimum of 4 hours per week in class and out. Classes are currently taught at a variety of times from 10am to 10pm Eastern/NY Time (convert to your Time Zone here), so if you live in Asia, for instance, you may need to take classes in the morning or evening. However, because the program is small, we listen to our student's requests for class schedules and will do our best to accommodate you. Plus, you can take many of your courses via recording, if the course times are a challenge for you.
What's included with my tuition?
Tuition is all-inclusive and covers your required classes, all required written materials, SCM assessments, all testing, videos on the business of coaching, certification, and bonus features, such as the Coach 100 Program that will bring coaching clients to you, plus your own webpage, plus Q&A classes on topics like coaching with mindfulness or setting your fees, plus the Positive Psychology Coaching Study Group. You also get a membership and certification with the IAPPC.

Click here to return to the Certified Positive Psychology Coach Page.
What about payment plans?
All student pay for their courses one at a time. This way you can break up your payments and take you courses at your own speed. Plus, once you are accepted into the program, you will get discounts on the cost of your courses. The more you take, the more you save! If you live in the United States, you may also be able to take up to six months to pay interest-free via PayPal Credit.
What is your refund policy?
Once you've registered for a course, you will have 24 hours to review the first class video, written coaching guide, and additional materials. If they don't meet your preferences, you may request a full refund within that 24 hour period. Or, in some cases, we may transfer you to a different course that fits your needs better. There are no refunds or transfers after the first 24 hours.
Where does CPPC training take place?
Our modules are taught via live and recorded distance training with audio and video recordings. This means you can use your telephone or any internet-connected device to connect with us from anywhere in the world. And we can do anything in class that you can do in a live class, except shake hands or get lost in traffic, on the way. There is no need to incur long-distance telephone fees and you will forego the added time and expense of traveling to live events.
Do I have to take the entire Certified Positive Psychology Coach Program or can I get advanced placement?
If you are new to both coaching and positive psychology, we highly recommend that you take the first five courses in the program. However, it's possible for advanced coaches to get either advanced placement or to substitute an elective module. Advanced Placement means one or two courses may be waived.
How do I earn my Certified Positive Psychology Coach credential?
To become a Certified Positive Psychology Coach® from the IAPPC, you must complete the first five courses, pass the online test for each module (80% is passing), submit a Final Project in which you apply what you've learned with your own coaching clients, and demonstrate proficient coaching skills using a positive psychology approach.
How do I apply to the Certified Positive Psychology Coach Program?
You can fill out this simple application form in a few minutes. The application currently is free. You will also need to have a telephone or internet conversation with an enrollment adviser before joining, so we can clarify any questions you may have. .
Click here to return to the Certified Positive Psychology Coach Program page.